Fitness
Art.Nr. 218
FITNESS COMES FAST WHEN YOU'RE HAVING FUN. THIS FLAT-BAR ROAD BIKE IS SMOOTH, QUICK AND IRRESISTIBLE.
This spirited road bike blends the speed and efficiency of a performance machine with the smooth-riding stability of a flat-bar bike. The frame is made with Giant's CoMax composite, which makes it lightweight and compliant. The innovative D-Fuse seatpost design helps soak up bumps and road vibrations. And the efficient 700c wheels help you roll through the streets with confidence and control. From city commutes to a daily fitness regimen, FastRoad CoMax is with you all the way.
pro Stk (inkl. 20 % MwSt )
1.699,00 EUR
Giant FastRoad CoMax 1
Größen S,M,ML,L,XL Farbe Matt Black/Chrome Rahmen CoMax Composite Technology Gabel Advanced-Grade Composite, ALUXX OverDrive Steerer Lenker Giant Connect Flat Vorbau Giant Connect, 31.8 Sattelstütze Giant D-Fuse Composite Sattel Contact (Neutral) Schalthebel Shimano Umwerfer Shimano FD 5801 Schaltwerk Shimano RD 5800 Bremsen Shimano M395 Kasette CS-5800, 11x32 Kette KMC X11-1 Kurbelsatz Shimano FC-5800, 34/50 Bottom Bracket Shimano -RS500 Felgen Giant PR-2 Disc Wheelset,Tubeless Naben Sealed Bearing Speichen Stainless Reifen Giant Gavia AC 1 Tubeless, 700x28, Folding Extras RideSense, Factory Tubeless Gewicht 9,1 Kg (M)
Art.Nr. 219
A SLEEK ROAD BIKE WITH COMFORTABLE FLAT-BAR POSITIONING. SO SMOOTH, SO EFFICIENT, IT FEELS LIKE FLYING.
The perfect balance of road bike speed and city bike versatility. Built on a lightweight ALUXX SLR aluminum frameset, this flat-bar road bike puts the rider in a comfortable position that's smooth and efficient. The fast-rolling 700c wheels and innovative D-Fuse seatpost help smooth out rough roads. And with disc brakes and rack mounts, it's great for commuting, fitness riding and other on-road pursuits.
pro Stk (inkl. 20 % MwSt )
1.099,00 EUR
Giant FastRoad SLR 1
Größen XS,S,M,ML,L,XL Farbe Black/Neon Green/Charcoal Rahmen ALUXX SLR-grade Aluminum Gabel Advanced-Grade Composite, ALUXX OverDrive Steerer Lenker Giant Connect Flat Vorbau Giant Connect, 31.8 Sattelstütze Giant D-Fuse Composite Sattel Contact (Neutral) Schalthebel Shimano Tiagra Umwerfer Shimano FD4700 Schaltwerk Shimano RD4700 Bremsen Shimano M315 Kasette Shimano CS4700, 11x34 Kette KMC X10 with Missing Link Kurbelsatz FC-RS400, 34/50 Bottom Bracket Shimano -RS500 Felgen Giant PR-2 Disc Wheelset,Tubeless Naben Sealed Bearing Speichen Stainless Reifen Giant Gavia AC 2 Tubeless, 700x28, Folding Extras Factory Tubeless Gewicht 9,7 Kg (M)
Art.Nr. 90918-7302
SIRRUS MEN V INT BLK/BLK/BLK S
Farbe: Black/Gloss Black/Black Reflective
Größe: S
pro Stück (inkl. 20 % MwSt )
429,00 EUR
pro Stück (inkl. 20 % MwSt )
429,00 EUR
Specialized Men´s Sirrus Alloy Black/Gloss Black/Black Reflective M
Unser Sirrus wird dich motivieren dein Fitnesslevel mit jeder Ausfahrt ein Stück weiter zu steigern. Und dabei kommt der Spaß nicht zu kurz. Mit seiner Kombination aus einem leichten langlebigen Aluminiumrahmen und einer gut dämpfenden Stahlgabel wird das Sirrus so schnell zu deinem favorisierten Fitness-Partner.



Felgen: 700C rim brake, double wall
Gabel: Steel, v-brake, 1-1/8´´ steerer, QR, rack & fender mounts
Bremse hinten: V-brake, linear pull
Nabe hinten: Alloy, 7-speed freehub, loose ball bearings, bolt type, 32h
Reifen hinten: Specialized Nimbus, 26 TPI, Flak Jacket protection, 700x32mm
Innenlager: BSA, 68mm, square taper
Kassette: Shimano HG200, 7-speed, 12-32t
Kette: KMC X8, 8-speed w/ Missing Link?
Kettenblätter: 48/38/28T
Kurbelgarnitur: Shimano Tourney, 3-piece
Lenker: 60mm, 5-degree backsweep, 25.4mm
Lenkerband: Specialized Body Geometry XCT, lock-on
Pedale: Specialized Body Geometry Fitness, platform, plastic
Rahmen: Specialized A1 Premium Aluminum, Fitness Geometry, fully-manipulated butted tubing, external cable routing, v-brake, QR, rack & fender mounts
Sattel: Specialized Canopy Sport, steel rails
Sattelstütze: Alloy, 12mm offset, 2-bolt clamp, 27.2mm
Sattelklemme: Bolt type, alloy, 31.8mm
Schalthebel: Shimano EF510, EZ-Fire Plus
Schaltwerk: Shimano Tourney TX, 8-speed
Schläuche: Schrader
Speichen: Stainless, 14g
Umwerfer: Shimano Tourney, top swing, 31.8mm clamp
Lenkervorbau: Stainless, 14g
Bremse vorne: V-brake, linear pull
Nabe vorne: Alloy, loose ball bearing, QR, 32h
Reifen vorne: Specialized Nimbus, 26TPI, Flak Jacket protection, 700x32mm

pro Stück (inkl. 20 % MwSt )
429,00 EUR
Specialized Men´s Sirrus Alloy Black/Gloss Black/Black Reflective L
Unser Sirrus wird dich motivieren dein Fitnesslevel mit jeder Ausfahrt ein Stück weiter zu steigern. Und dabei kommt der Spaß nicht zu kurz. Mit seiner Kombination aus einem leichten langlebigen Aluminiumrahmen und einer gut dämpfenden Stahlgabel wird das Sirrus so schnell zu deinem favorisierten Fitness-Partner.



Felgen: 700C rim brake, double wall
Gabel: Steel, v-brake, 1-1/8´´ steerer, QR, rack & fender mounts
Bremse hinten: V-brake, linear pull
Nabe hinten: Alloy, 7-speed freehub, loose ball bearings, bolt type, 32h
Reifen hinten: Specialized Nimbus, 26 TPI, Flak Jacket protection, 700x32mm
Innenlager: BSA, 68mm, square taper
Kassette: Shimano HG200, 7-speed, 12-32t
Kette: KMC X8, 8-speed w/ Missing Link?
Kettenblätter: 48/38/28T
Kurbelgarnitur: Shimano Tourney, 3-piece
Lenker: 60mm, 5-degree backsweep, 25.4mm
Lenkerband: Specialized Body Geometry XCT, lock-on
Pedale: Specialized Body Geometry Fitness, platform, plastic
Rahmen: Specialized A1 Premium Aluminum, Fitness Geometry, fully-manipulated butted tubing, external cable routing, v-brake, QR, rack & fender mounts
Sattel: Specialized Canopy Sport, steel rails
Sattelstütze: Alloy, 12mm offset, 2-bolt clamp, 27.2mm
Sattelklemme: Bolt type, alloy, 31.8mm
Schalthebel: Shimano EF510, EZ-Fire Plus
Schaltwerk: Shimano Tourney TX, 8-speed
Schläuche: Schrader
Speichen: Stainless, 14g
Umwerfer: Shimano Tourney, top swing, 31.8mm clamp
Lenkervorbau: Stainless, 14g
Bremse vorne: V-brake, linear pull
Nabe vorne: Alloy, loose ball bearing, QR, 32h
Reifen vorne: Specialized Nimbus, 26TPI, Flak Jacket protection, 700x32mm

pro Stück (inkl. 20 % MwSt )
429,00 EUR
Specialized Men´s Sirrus Alloy Black/Gloss Black/Black Reflective XL
Unser Sirrus wird dich motivieren dein Fitnesslevel mit jeder Ausfahrt ein Stück weiter zu steigern. Und dabei kommt der Spaß nicht zu kurz. Mit seiner Kombination aus einem leichten langlebigen Aluminiumrahmen und einer gut dämpfenden Stahlgabel wird das Sirrus so schnell zu deinem favorisierten Fitness-Partner.



Felgen: 700C rim brake, double wall
Gabel: Steel, v-brake, 1-1/8´´ steerer, QR, rack & fender mounts
Bremse hinten: V-brake, linear pull
Nabe hinten: Alloy, 7-speed freehub, loose ball bearings, bolt type, 32h
Reifen hinten: Specialized Nimbus, 26 TPI, Flak Jacket protection, 700x32mm
Innenlager: BSA, 68mm, square taper
Kassette: Shimano HG200, 7-speed, 12-32t
Kette: KMC X8, 8-speed w/ Missing Link?
Kettenblätter: 48/38/28T
Kurbelgarnitur: Shimano Tourney, 3-piece
Lenker: 60mm, 5-degree backsweep, 25.4mm
Lenkerband: Specialized Body Geometry XCT, lock-on
Pedale: Specialized Body Geometry Fitness, platform, plastic
Rahmen: Specialized A1 Premium Aluminum, Fitness Geometry, fully-manipulated butted tubing, external cable routing, v-brake, QR, rack & fender mounts
Sattel: Specialized Canopy Sport, steel rails
Sattelstütze: Alloy, 12mm offset, 2-bolt clamp, 27.2mm
Sattelklemme: Bolt type, alloy, 31.8mm
Schalthebel: Shimano EF510, EZ-Fire Plus
Schaltwerk: Shimano Tourney TX, 8-speed
Schläuche: Schrader
Speichen: Stainless, 14g
Umwerfer: Shimano Tourney, top swing, 31.8mm clamp
Lenkervorbau: Stainless, 14g
Bremse vorne: V-brake, linear pull
Nabe vorne: Alloy, loose ball bearing, QR, 32h
Reifen vorne: Specialized Nimbus, 26TPI, Flak Jacket protection, 700x32mm

Specialized Men´s Sirrus Alloy Black/Gloss Black/Black Reflective S
Unser Sirrus wird dich motivieren dein Fitnesslevel mit jeder Ausfahrt ein Stück weiter zu steigern. Und dabei kommt der Spaß nicht zu kurz. Mit seiner Kombination aus einem leichten langlebigen Aluminiumrahmen und einer gut dämpfenden Stahlgabel wird das Sirrus so schnell zu deinem favorisierten Fitness-Partner.



Felgen: 700C rim brake, double wall
Gabel: Steel, v-brake, 1-1/8´´ steerer, QR, rack & fender mounts
Bremse hinten: V-brake, linear pull
Nabe hinten: Alloy, 7-speed freehub, loose ball bearings, bolt type, 32h
Reifen hinten: Specialized Nimbus, 26 TPI, Flak Jacket protection, 700x32mm
Innenlager: BSA, 68mm, square taper
Kassette: Shimano HG200, 7-speed, 12-32t
Kette: KMC X8, 8-speed w/ Missing Link?
Kettenblätter: 48/38/28T
Kurbelgarnitur: Shimano Tourney, 3-piece
Lenker: 60mm, 5-degree backsweep, 25.4mm
Lenkerband: Specialized Body Geometry XCT, lock-on
Pedale: Specialized Body Geometry Fitness, platform, plastic
Rahmen: Specialized A1 Premium Aluminum, Fitness Geometry, fully-manipulated butted tubing, external cable routing, v-brake, QR, rack & fender mounts
Sattel: Specialized Canopy Sport, steel rails
Sattelstütze: Alloy, 12mm offset, 2-bolt clamp, 27.2mm
Sattelklemme: Bolt type, alloy, 31.8mm
Schalthebel: Shimano EF510, EZ-Fire Plus
Schaltwerk: Shimano Tourney TX, 8-speed
Schläuche: Schrader
Speichen: Stainless, 14g
Umwerfer: Shimano Tourney, top swing, 31.8mm clamp
Lenkervorbau: Stainless, 14g
Bremse vorne: V-brake, linear pull
Nabe vorne: Alloy, loose ball bearing, QR, 32h
Reifen vorne: Specialized Nimbus, 26TPI, Flak Jacket protection, 700x32mm

Art.Nr. 90918-7102
SIRRUS MEN INT CHAR/CNDYRED/BLK S
Farbe: Charcoal/Candy Red/Black Reflective
Größe: S
pro Stück (inkl. 20 % MwSt )
549,00 EUR
pro Stück (inkl. 20 % MwSt )
549,00 EUR
Specialized Men´s Sirrus Alloy Disc Charcoal/Candy Red/Black Reflective M
Unser Sirrus Disc wird dich motivieren dein Fitnesslevel mit jeder Ausfahrt ein Stück weiter zu steigern. Und dabei kommt der Spaß nicht zu kurz. Mit seiner Kombination aus einem leichten langlebigen Aluminiumrahmen und einer gut dämpfenden Stahlgabel wird das Sirrus so schnell zu deinem favorisierten Fitness-Partner.



Felgen: 700C disc, double wall
Gabel: Steel, flat mount disc, 1-1/8´´ steerer, QR, rack & Plug + Play fender mounts
Bremse hinten: Promax F1, hydraulic disc, flat mount, 140mm rotor
Nabe hinten: Alloy, 6-bolt disc, 8/9-speed freehub, loose ball bearing, QR, 32h
Reifen hinten: Specialized Nimbus Reflect 700x32mm, 26 TPI, wire bead, w/ Flak Jacket protection
Innenlager: BSA, 68mm, square taper
Kassette: Shimano Altus, 8-speed, 11-32t
Kette: KMC X8, 8-speed w/ Missing Link?
Kettenblätter: 48/38/28T, steel
Kurbelgarnitur: Shimano Tourney, 3-piece
Lenker: Double butted alloy, 9-degree backsweep, 31.8mm
Lenkerband: Specialized Body Geometry Targa, lock on
Pedale: Specialized Body Geometry Fitness, platform, plastic
Rahmen: Specialized A1 SL Premium Aluminum, Fitness Geometry, fully-manipulated butted tubing, internal cable routing, flat mount disc, QR, rack & Plug + Play fender mounts
Sattel: Specialized Canopy Sport, steel rails, 155mm
Sattelstütze: Alloy, 12mm offset, 2-bolt clamp, 27.2mm
Sattelklemme: Alloy, 31.8mm, bolt type
Schalthebel: Shimano Altus, RapidFire Plus w/ gear display
Schaltwerk: Shimano Altus, 8-Speed
Schläuche: Schrader
Speichen: Stainless, 14g
Umwerfer: Shimano Tourney, top swing, 31.8mm clamp
Lenkervorbau: Stainless, 14g
Bremse vorne: Promax F1, hydraulic disc, flat mount, 160mm rotor
Nabe vorne: Alloy, 6-bolt disc, loose ball bearing, QR, 32h
Reifen vorne: Specialized Nimbus Reflect 700x32mm, 26 TPI, wire bead, w/ Flak Jacket protection

pro Stück (inkl. 20 % MwSt )
549,00 EUR
Specialized Men´s Sirrus Alloy Disc Charcoal/Candy Red/Black Reflective L
Unser Sirrus Disc wird dich motivieren dein Fitnesslevel mit jeder Ausfahrt ein Stück weiter zu steigern. Und dabei kommt der Spaß nicht zu kurz. Mit seiner Kombination aus einem leichten langlebigen Aluminiumrahmen und einer gut dämpfenden Stahlgabel wird das Sirrus so schnell zu deinem favorisierten Fitness-Partner.



Felgen: 700C disc, double wall
Gabel: Steel, flat mount disc, 1-1/8´´ steerer, QR, rack & Plug + Play fender mounts
Bremse hinten: Promax F1, hydraulic disc, flat mount, 140mm rotor
Nabe hinten: Alloy, 6-bolt disc, 8/9-speed freehub, loose ball bearing, QR, 32h
Reifen hinten: Specialized Nimbus Reflect 700x32mm, 26 TPI, wire bead, w/ Flak Jacket protection
Innenlager: BSA, 68mm, square taper
Kassette: Shimano Altus, 8-speed, 11-32t
Kette: KMC X8, 8-speed w/ Missing Link?
Kettenblätter: 48/38/28T, steel
Kurbelgarnitur: Shimano Tourney, 3-piece
Lenker: Double butted alloy, 9-degree backsweep, 31.8mm
Lenkerband: Specialized Body Geometry Targa, lock on
Pedale: Specialized Body Geometry Fitness, platform, plastic
Rahmen: Specialized A1 SL Premium Aluminum, Fitness Geometry, fully-manipulated butted tubing, internal cable routing, flat mount disc, QR, rack & Plug + Play fender mounts
Sattel: Specialized Canopy Sport, steel rails, 155mm
Sattelstütze: Alloy, 12mm offset, 2-bolt clamp, 27.2mm
Sattelklemme: Alloy, 31.8mm, bolt type
Schalthebel: Shimano Altus, RapidFire Plus w/ gear display
Schaltwerk: Shimano Altus, 8-Speed
Schläuche: Schrader
Speichen: Stainless, 14g
Umwerfer: Shimano Tourney, top swing, 31.8mm clamp
Lenkervorbau: Stainless, 14g
Bremse vorne: Promax F1, hydraulic disc, flat mount, 160mm rotor
Nabe vorne: Alloy, 6-bolt disc, loose ball bearing, QR, 32h
Reifen vorne: Specialized Nimbus Reflect 700x32mm, 26 TPI, wire bead, w/ Flak Jacket protection

pro Stück (inkl. 20 % MwSt )
549,00 EUR
Specialized Men´s Sirrus Alloy Disc Charcoal/Candy Red/Black Reflective XL
Unser Sirrus Disc wird dich motivieren dein Fitnesslevel mit jeder Ausfahrt ein Stück weiter zu steigern. Und dabei kommt der Spaß nicht zu kurz. Mit seiner Kombination aus einem leichten langlebigen Aluminiumrahmen und einer gut dämpfenden Stahlgabel wird das Sirrus so schnell zu deinem favorisierten Fitness-Partner.



Felgen: 700C disc, double wall
Gabel: Steel, flat mount disc, 1-1/8´´ steerer, QR, rack & Plug + Play fender mounts
Bremse hinten: Promax F1, hydraulic disc, flat mount, 140mm rotor
Nabe hinten: Alloy, 6-bolt disc, 8/9-speed freehub, loose ball bearing, QR, 32h
Reifen hinten: Specialized Nimbus Reflect 700x32mm, 26 TPI, wire bead, w/ Flak Jacket protection
Innenlager: BSA, 68mm, square taper
Kassette: Shimano Altus, 8-speed, 11-32t
Kette: KMC X8, 8-speed w/ Missing Link?
Kettenblätter: 48/38/28T, steel
Kurbelgarnitur: Shimano Tourney, 3-piece
Lenker: Double butted alloy, 9-degree backsweep, 31.8mm
Lenkerband: Specialized Body Geometry Targa, lock on
Pedale: Specialized Body Geometry Fitness, platform, plastic
Rahmen: Specialized A1 SL Premium Aluminum, Fitness Geometry, fully-manipulated butted tubing, internal cable routing, flat mount disc, QR, rack & Plug + Play fender mounts
Sattel: Specialized Canopy Sport, steel rails, 155mm
Sattelstütze: Alloy, 12mm offset, 2-bolt clamp, 27.2mm
Sattelklemme: Alloy, 31.8mm, bolt type
Schalthebel: Shimano Altus, RapidFire Plus w/ gear display
Schaltwerk: Shimano Altus, 8-Speed
Schläuche: Schrader
Speichen: Stainless, 14g
Umwerfer: Shimano Tourney, top swing, 31.8mm clamp
Lenkervorbau: Stainless, 14g
Bremse vorne: Promax F1, hydraulic disc, flat mount, 160mm rotor
Nabe vorne: Alloy, 6-bolt disc, loose ball bearing, QR, 32h
Reifen vorne: Specialized Nimbus Reflect 700x32mm, 26 TPI, wire bead, w/ Flak Jacket protection

Specialized Men´s Sirrus Alloy Disc Charcoal/Candy Red/Black Reflective S
Unser Sirrus Disc wird dich motivieren dein Fitnesslevel mit jeder Ausfahrt ein Stück weiter zu steigern. Und dabei kommt der Spaß nicht zu kurz. Mit seiner Kombination aus einem leichten langlebigen Aluminiumrahmen und einer gut dämpfenden Stahlgabel wird das Sirrus so schnell zu deinem favorisierten Fitness-Partner.



Felgen: 700C disc, double wall
Gabel: Steel, flat mount disc, 1-1/8´´ steerer, QR, rack & Plug + Play fender mounts
Bremse hinten: Promax F1, hydraulic disc, flat mount, 140mm rotor
Nabe hinten: Alloy, 6-bolt disc, 8/9-speed freehub, loose ball bearing, QR, 32h
Reifen hinten: Specialized Nimbus Reflect 700x32mm, 26 TPI, wire bead, w/ Flak Jacket protection
Innenlager: BSA, 68mm, square taper
Kassette: Shimano Altus, 8-speed, 11-32t
Kette: KMC X8, 8-speed w/ Missing Link?
Kettenblätter: 48/38/28T, steel
Kurbelgarnitur: Shimano Tourney, 3-piece
Lenker: Double butted alloy, 9-degree backsweep, 31.8mm
Lenkerband: Specialized Body Geometry Targa, lock on
Pedale: Specialized Body Geometry Fitness, platform, plastic
Rahmen: Specialized A1 SL Premium Aluminum, Fitness Geometry, fully-manipulated butted tubing, internal cable routing, flat mount disc, QR, rack & Plug + Play fender mounts
Sattel: Specialized Canopy Sport, steel rails, 155mm
Sattelstütze: Alloy, 12mm offset, 2-bolt clamp, 27.2mm
Sattelklemme: Alloy, 31.8mm, bolt type
Schalthebel: Shimano Altus, RapidFire Plus w/ gear display
Schaltwerk: Shimano Altus, 8-Speed
Schläuche: Schrader
Speichen: Stainless, 14g
Umwerfer: Shimano Tourney, top swing, 31.8mm clamp
Lenkervorbau: Stainless, 14g
Bremse vorne: Promax F1, hydraulic disc, flat mount, 160mm rotor
Nabe vorne: Alloy, 6-bolt disc, loose ball bearing, QR, 32h
Reifen vorne: Specialized Nimbus Reflect 700x32mm, 26 TPI, wire bead, w/ Flak Jacket protection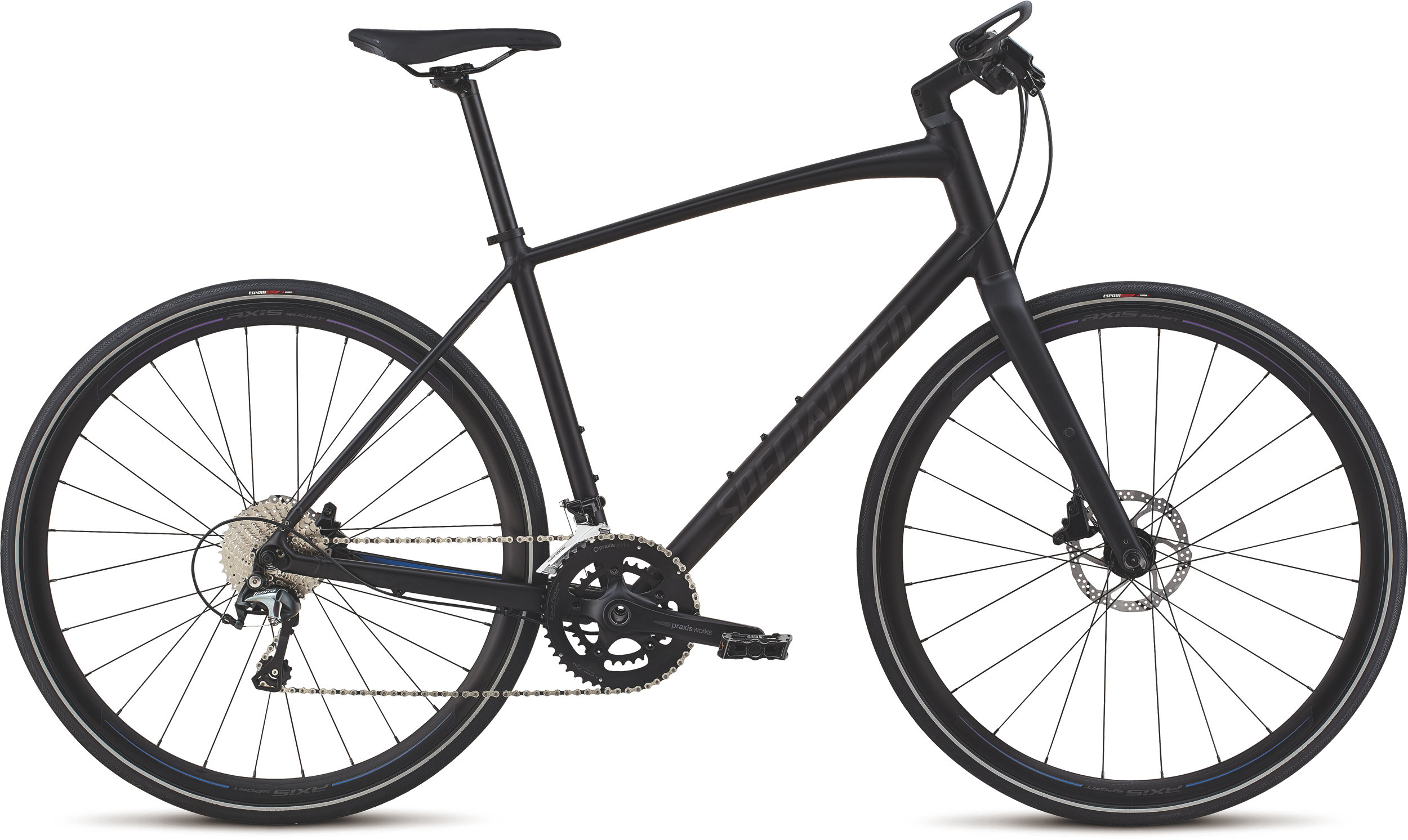 Art.Nr. 90918-4002
SIRRUS MEN ELITE INT BLK/CMLN/NRBLK S
Farbe: Black/Purple Chameleon/Nearly Black Reflective
Größe: S
pro Stück (inkl. 20 % MwSt )
899,00 EUR
pro Stück (inkl. 20 % MwSt )
899,00 EUR
Specialized Men´s Sirrus Elite Alloy Black/Purple Chameleon/Nearly Black Reflective M
Unser Sirrus Elite ist prädestiniert als perfekter Trainingspartner auf dem Weg zu einem höheren Fitnesslevel. Mit seiner Kombination aus einem leichten langlebigen Aluminiumrahmen und einer gut dämpfenden FACT Carbongabel wird das Sirrus schnell zu deinem favorisierten Fitness-Partner.



Felgen: 700C disc, double wall, 24h front, 28h rear
Gabel: Specialized FACT 9r carbon, 12x100mm thru-axle, flat mount disc, Plug + Play fender mounts
Bremse hinten: TRP Flow Set Control, hydraulic disc, resin pads, flat mount, 140mm rotor
Nabe hinten: Alloy, 135mm QR, 6-bolt disc, 11-speed freehub, loose ball bearing, 28h
Reifen hinten: Specialized Espoir Sport Reflect, 700x30mm, 60 TPI, double BlackBelt protection
Innenlager: Praxis M24, BSA
Kassette: Shimano Tiagra, 10-speed, 11-34t
Kette: KMC X10, 10-speed w/ Missing Link?
Kettenblätter: 48/32T
Kurbelgarnitur: Praxis Alba M24, solid forged arms, 6061 outer ring, steel inner ring, 110 BCD, 10-speed
Lenker: Double butted alloy, 9-degree backsweep, 31.8mm
Lenkerband: Specialized Body Geometry Flow Set Control, lock-on, integrated bar ends, hidden 4/5mm hex key
Pedale: Specialized Fitness platform, alloy
Rahmen: Specialized A1 SL Premium Aluminum, Fitness Geometry, fully-manipulated butted tubing, internal cable routing, flat mount disc, QR, rack & Plug + Play fender mounts
Sattel: Specialized Canopy Comp, hollow Cr-Mo rails, 155mm
Sattelstütze: Alloy, 2-bolt, 14mm offset, 27.2mm
Sattelklemme: Alloy, 31.8mm, bolt type
Schalthebel: microSHIFT Flow Set Control, 10-speed
Schaltwerk: Shimano Tiagra, GS cage, 10-speed
Schläuche: Presta, 48mm valve
Speichen: Stainless, 14g
Umwerfer: microSHIFT Centos, 10-speed, 31.8mm clamp
Lenkervorbau: Stainless, 14g
Bremse vorne: TRP Flow Set Control, hydraulic disc, resin pads, flat mount, 160mm rotor
Nabe vorne: Alloy, 6-bolt disc, loose ball bearing, 100mm spacing, QR, 24h
Reifen vorne: Specialized Espoir Sport Reflect, 700x30mm, 60 TPI, double BlackBelt protection

pro Stück (inkl. 20 % MwSt )
899,00 EUR
Specialized Men´s Sirrus Elite Alloy Black/Purple Chameleon/Nearly Black Reflective L
Unser Sirrus Elite ist prädestiniert als perfekter Trainingspartner auf dem Weg zu einem höheren Fitnesslevel. Mit seiner Kombination aus einem leichten langlebigen Aluminiumrahmen und einer gut dämpfenden FACT Carbongabel wird das Sirrus schnell zu deinem favorisierten Fitness-Partner.



Felgen: 700C disc, double wall, 24h front, 28h rear
Gabel: Specialized FACT 9r carbon, 12x100mm thru-axle, flat mount disc, Plug + Play fender mounts
Bremse hinten: TRP Flow Set Control, hydraulic disc, resin pads, flat mount, 140mm rotor
Nabe hinten: Alloy, 135mm QR, 6-bolt disc, 11-speed freehub, loose ball bearing, 28h
Reifen hinten: Specialized Espoir Sport Reflect, 700x30mm, 60 TPI, double BlackBelt protection
Innenlager: Praxis M24, BSA
Kassette: Shimano Tiagra, 10-speed, 11-34t
Kette: KMC X10, 10-speed w/ Missing Link?
Kettenblätter: 48/32T
Kurbelgarnitur: Praxis Alba M24, solid forged arms, 6061 outer ring, steel inner ring, 110 BCD, 10-speed
Lenker: Double butted alloy, 9-degree backsweep, 31.8mm
Lenkerband: Specialized Body Geometry Flow Set Control, lock-on, integrated bar ends, hidden 4/5mm hex key
Pedale: Specialized Fitness platform, alloy
Rahmen: Specialized A1 SL Premium Aluminum, Fitness Geometry, fully-manipulated butted tubing, internal cable routing, flat mount disc, QR, rack & Plug + Play fender mounts
Sattel: Specialized Canopy Comp, hollow Cr-Mo rails, 155mm
Sattelstütze: Alloy, 2-bolt, 14mm offset, 27.2mm
Sattelklemme: Alloy, 31.8mm, bolt type
Schalthebel: microSHIFT Flow Set Control, 10-speed
Schaltwerk: Shimano Tiagra, GS cage, 10-speed
Schläuche: Presta, 48mm valve
Speichen: Stainless, 14g
Umwerfer: microSHIFT Centos, 10-speed, 31.8mm clamp
Lenkervorbau: Stainless, 14g
Bremse vorne: TRP Flow Set Control, hydraulic disc, resin pads, flat mount, 160mm rotor
Nabe vorne: Alloy, 6-bolt disc, loose ball bearing, 100mm spacing, QR, 24h
Reifen vorne: Specialized Espoir Sport Reflect, 700x30mm, 60 TPI, double BlackBelt protection

pro Stück (inkl. 20 % MwSt )
899,00 EUR
Specialized Men´s Sirrus Elite Alloy Black/Purple Chameleon/Nearly Black Reflective XL
Unser Sirrus Elite ist prädestiniert als perfekter Trainingspartner auf dem Weg zu einem höheren Fitnesslevel. Mit seiner Kombination aus einem leichten langlebigen Aluminiumrahmen und einer gut dämpfenden FACT Carbongabel wird das Sirrus schnell zu deinem favorisierten Fitness-Partner.



Felgen: 700C disc, double wall, 24h front, 28h rear
Gabel: Specialized FACT 9r carbon, 12x100mm thru-axle, flat mount disc, Plug + Play fender mounts
Bremse hinten: TRP Flow Set Control, hydraulic disc, resin pads, flat mount, 140mm rotor
Nabe hinten: Alloy, 135mm QR, 6-bolt disc, 11-speed freehub, loose ball bearing, 28h
Reifen hinten: Specialized Espoir Sport Reflect, 700x30mm, 60 TPI, double BlackBelt protection
Innenlager: Praxis M24, BSA
Kassette: Shimano Tiagra, 10-speed, 11-34t
Kette: KMC X10, 10-speed w/ Missing Link?
Kettenblätter: 48/32T
Kurbelgarnitur: Praxis Alba M24, solid forged arms, 6061 outer ring, steel inner ring, 110 BCD, 10-speed
Lenker: Double butted alloy, 9-degree backsweep, 31.8mm
Lenkerband: Specialized Body Geometry Flow Set Control, lock-on, integrated bar ends, hidden 4/5mm hex key
Pedale: Specialized Fitness platform, alloy
Rahmen: Specialized A1 SL Premium Aluminum, Fitness Geometry, fully-manipulated butted tubing, internal cable routing, flat mount disc, QR, rack & Plug + Play fender mounts
Sattel: Specialized Canopy Comp, hollow Cr-Mo rails, 155mm
Sattelstütze: Alloy, 2-bolt, 14mm offset, 27.2mm
Sattelklemme: Alloy, 31.8mm, bolt type
Schalthebel: microSHIFT Flow Set Control, 10-speed
Schaltwerk: Shimano Tiagra, GS cage, 10-speed
Schläuche: Presta, 48mm valve
Speichen: Stainless, 14g
Umwerfer: microSHIFT Centos, 10-speed, 31.8mm clamp
Lenkervorbau: Stainless, 14g
Bremse vorne: TRP Flow Set Control, hydraulic disc, resin pads, flat mount, 160mm rotor
Nabe vorne: Alloy, 6-bolt disc, loose ball bearing, 100mm spacing, QR, 24h
Reifen vorne: Specialized Espoir Sport Reflect, 700x30mm, 60 TPI, double BlackBelt protection

Specialized Men´s Sirrus Elite Alloy Black/Purple Chameleon/Nearly Black Reflective S
Unser Sirrus Elite ist prädestiniert als perfekter Trainingspartner auf dem Weg zu einem höheren Fitnesslevel. Mit seiner Kombination aus einem leichten langlebigen Aluminiumrahmen und einer gut dämpfenden FACT Carbongabel wird das Sirrus schnell zu deinem favorisierten Fitness-Partner.



Felgen: 700C disc, double wall, 24h front, 28h rear
Gabel: Specialized FACT 9r carbon, 12x100mm thru-axle, flat mount disc, Plug + Play fender mounts
Bremse hinten: TRP Flow Set Control, hydraulic disc, resin pads, flat mount, 140mm rotor
Nabe hinten: Alloy, 135mm QR, 6-bolt disc, 11-speed freehub, loose ball bearing, 28h
Reifen hinten: Specialized Espoir Sport Reflect, 700x30mm, 60 TPI, double BlackBelt protection
Innenlager: Praxis M24, BSA
Kassette: Shimano Tiagra, 10-speed, 11-34t
Kette: KMC X10, 10-speed w/ Missing Link?
Kettenblätter: 48/32T
Kurbelgarnitur: Praxis Alba M24, solid forged arms, 6061 outer ring, steel inner ring, 110 BCD, 10-speed
Lenker: Double butted alloy, 9-degree backsweep, 31.8mm
Lenkerband: Specialized Body Geometry Flow Set Control, lock-on, integrated bar ends, hidden 4/5mm hex key
Pedale: Specialized Fitness platform, alloy
Rahmen: Specialized A1 SL Premium Aluminum, Fitness Geometry, fully-manipulated butted tubing, internal cable routing, flat mount disc, QR, rack & Plug + Play fender mounts
Sattel: Specialized Canopy Comp, hollow Cr-Mo rails, 155mm
Sattelstütze: Alloy, 2-bolt, 14mm offset, 27.2mm
Sattelklemme: Alloy, 31.8mm, bolt type
Schalthebel: microSHIFT Flow Set Control, 10-speed
Schaltwerk: Shimano Tiagra, GS cage, 10-speed
Schläuche: Presta, 48mm valve
Speichen: Stainless, 14g
Umwerfer: microSHIFT Centos, 10-speed, 31.8mm clamp
Lenkervorbau: Stainless, 14g
Bremse vorne: TRP Flow Set Control, hydraulic disc, resin pads, flat mount, 160mm rotor
Nabe vorne: Alloy, 6-bolt disc, loose ball bearing, 100mm spacing, QR, 24h
Reifen vorne: Specialized Espoir Sport Reflect, 700x30mm, 60 TPI, double BlackBelt protection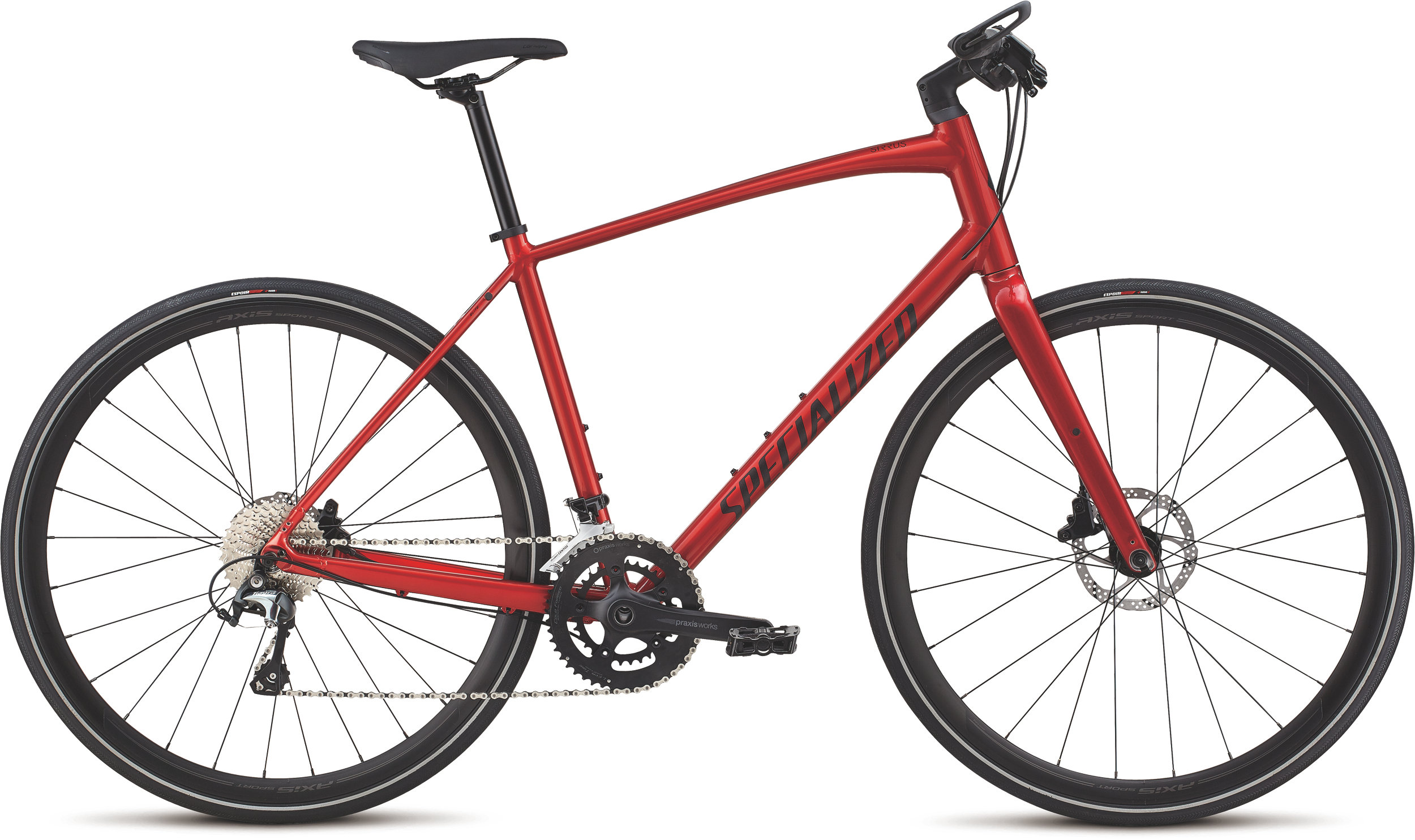 Art.Nr. 90918-4102
SIRRUS MEN ELITE INT CNDYRED/RKTRED S
Farbe: Candy Red/Rocket Red
Größe: S
pro Stück (inkl. 20 % MwSt )
899,00 EUR
pro Stück (inkl. 20 % MwSt )
899,00 EUR
Specialized Men´s Sirrus Elite Alloy Candy Red/Rocket Red M
Unser Sirrus Elite ist prädestiniert als perfekter Trainingspartner auf dem Weg zu einem höheren Fitnesslevel. Mit seiner Kombination aus einem leichten langlebigen Aluminiumrahmen und einer gut dämpfenden FACT Carbongabel wird das Sirrus schnell zu deinem favorisierten Fitness-Partner.



Felgen: 700C disc, double wall, 24h front, 28h rear
Gabel: Specialized FACT 9r carbon, 12x100mm thru-axle, flat mount disc, Plug + Play fender mounts
Bremse hinten: TRP Flow Set Control, hydraulic disc, resin pads, flat mount, 140mm rotor
Nabe hinten: Alloy, 135mm QR, 6-bolt disc, 11-speed freehub, loose ball bearing, 28h
Reifen hinten: Specialized Espoir Sport Reflect, 700x30mm, 60 TPI, double BlackBelt protection
Innenlager: Praxis M24, BSA
Kassette: Shimano Tiagra, 10-speed, 11-34t
Kette: KMC X10, 10-speed w/ Missing Link?
Kettenblätter: 48/32T
Kurbelgarnitur: Praxis Alba M24, solid forged arms, 6061 outer ring, steel inner ring, 110 BCD, 10-speed
Lenker: Double butted alloy, 9-degree backsweep, 31.8mm
Lenkerband: Specialized Body Geometry Flow Set Control, lock-on, integrated bar ends, hidden 4/5mm hex key
Pedale: Specialized Fitness platform, alloy
Rahmen: Specialized A1 SL Premium Aluminum, Fitness Geometry, fully-manipulated butted tubing, internal cable routing, flat mount disc, QR, rack & Plug + Play fender mounts
Sattel: Specialized Canopy Comp, hollow Cr-Mo rails, 155mm
Sattelstütze: Alloy, 2-bolt, 14mm offset, 27.2mm
Sattelklemme: Alloy, 31.8mm, bolt type
Schalthebel: microSHIFT Flow Set Control, 10-speed
Schaltwerk: Shimano Tiagra, GS cage, 10-speed
Schläuche: Presta, 48mm valve
Speichen: Stainless, 14g
Umwerfer: microSHIFT Centos, 10-speed, 31.8mm clamp
Lenkervorbau: Stainless, 14g
Bremse vorne: TRP Flow Set Control, hydraulic disc, resin pads, flat mount, 160mm rotor
Nabe vorne: Alloy, 6-bolt disc, loose ball bearing, 100mm spacing, QR, 24h
Reifen vorne: Specialized Espoir Sport Reflect, 700x30mm, 60 TPI, double BlackBelt protection

pro Stück (inkl. 20 % MwSt )
899,00 EUR
Specialized Men´s Sirrus Elite Alloy Candy Red/Rocket Red L
Unser Sirrus Elite ist prädestiniert als perfekter Trainingspartner auf dem Weg zu einem höheren Fitnesslevel. Mit seiner Kombination aus einem leichten langlebigen Aluminiumrahmen und einer gut dämpfenden FACT Carbongabel wird das Sirrus schnell zu deinem favorisierten Fitness-Partner.



Felgen: 700C disc, double wall, 24h front, 28h rear
Gabel: Specialized FACT 9r carbon, 12x100mm thru-axle, flat mount disc, Plug + Play fender mounts
Bremse hinten: TRP Flow Set Control, hydraulic disc, resin pads, flat mount, 140mm rotor
Nabe hinten: Alloy, 135mm QR, 6-bolt disc, 11-speed freehub, loose ball bearing, 28h
Reifen hinten: Specialized Espoir Sport Reflect, 700x30mm, 60 TPI, double BlackBelt protection
Innenlager: Praxis M24, BSA
Kassette: Shimano Tiagra, 10-speed, 11-34t
Kette: KMC X10, 10-speed w/ Missing Link?
Kettenblätter: 48/32T
Kurbelgarnitur: Praxis Alba M24, solid forged arms, 6061 outer ring, steel inner ring, 110 BCD, 10-speed
Lenker: Double butted alloy, 9-degree backsweep, 31.8mm
Lenkerband: Specialized Body Geometry Flow Set Control, lock-on, integrated bar ends, hidden 4/5mm hex key
Pedale: Specialized Fitness platform, alloy
Rahmen: Specialized A1 SL Premium Aluminum, Fitness Geometry, fully-manipulated butted tubing, internal cable routing, flat mount disc, QR, rack & Plug + Play fender mounts
Sattel: Specialized Canopy Comp, hollow Cr-Mo rails, 155mm
Sattelstütze: Alloy, 2-bolt, 14mm offset, 27.2mm
Sattelklemme: Alloy, 31.8mm, bolt type
Schalthebel: microSHIFT Flow Set Control, 10-speed
Schaltwerk: Shimano Tiagra, GS cage, 10-speed
Schläuche: Presta, 48mm valve
Speichen: Stainless, 14g
Umwerfer: microSHIFT Centos, 10-speed, 31.8mm clamp
Lenkervorbau: Stainless, 14g
Bremse vorne: TRP Flow Set Control, hydraulic disc, resin pads, flat mount, 160mm rotor
Nabe vorne: Alloy, 6-bolt disc, loose ball bearing, 100mm spacing, QR, 24h
Reifen vorne: Specialized Espoir Sport Reflect, 700x30mm, 60 TPI, double BlackBelt protection

pro Stück (inkl. 20 % MwSt )
899,00 EUR
Specialized Men´s Sirrus Elite Alloy Candy Red/Rocket Red XL
Unser Sirrus Elite ist prädestiniert als perfekter Trainingspartner auf dem Weg zu einem höheren Fitnesslevel. Mit seiner Kombination aus einem leichten langlebigen Aluminiumrahmen und einer gut dämpfenden FACT Carbongabel wird das Sirrus schnell zu deinem favorisierten Fitness-Partner.



Felgen: 700C disc, double wall, 24h front, 28h rear
Gabel: Specialized FACT 9r carbon, 12x100mm thru-axle, flat mount disc, Plug + Play fender mounts
Bremse hinten: TRP Flow Set Control, hydraulic disc, resin pads, flat mount, 140mm rotor
Nabe hinten: Alloy, 135mm QR, 6-bolt disc, 11-speed freehub, loose ball bearing, 28h
Reifen hinten: Specialized Espoir Sport Reflect, 700x30mm, 60 TPI, double BlackBelt protection
Innenlager: Praxis M24, BSA
Kassette: Shimano Tiagra, 10-speed, 11-34t
Kette: KMC X10, 10-speed w/ Missing Link?
Kettenblätter: 48/32T
Kurbelgarnitur: Praxis Alba M24, solid forged arms, 6061 outer ring, steel inner ring, 110 BCD, 10-speed
Lenker: Double butted alloy, 9-degree backsweep, 31.8mm
Lenkerband: Specialized Body Geometry Flow Set Control, lock-on, integrated bar ends, hidden 4/5mm hex key
Pedale: Specialized Fitness platform, alloy
Rahmen: Specialized A1 SL Premium Aluminum, Fitness Geometry, fully-manipulated butted tubing, internal cable routing, flat mount disc, QR, rack & Plug + Play fender mounts
Sattel: Specialized Canopy Comp, hollow Cr-Mo rails, 155mm
Sattelstütze: Alloy, 2-bolt, 14mm offset, 27.2mm
Sattelklemme: Alloy, 31.8mm, bolt type
Schalthebel: microSHIFT Flow Set Control, 10-speed
Schaltwerk: Shimano Tiagra, GS cage, 10-speed
Schläuche: Presta, 48mm valve
Speichen: Stainless, 14g
Umwerfer: microSHIFT Centos, 10-speed, 31.8mm clamp
Lenkervorbau: Stainless, 14g
Bremse vorne: TRP Flow Set Control, hydraulic disc, resin pads, flat mount, 160mm rotor
Nabe vorne: Alloy, 6-bolt disc, loose ball bearing, 100mm spacing, QR, 24h
Reifen vorne: Specialized Espoir Sport Reflect, 700x30mm, 60 TPI, double BlackBelt protection

Specialized Men´s Sirrus Elite Alloy Candy Red/Rocket Red S
Unser Sirrus Elite ist prädestiniert als perfekter Trainingspartner auf dem Weg zu einem höheren Fitnesslevel. Mit seiner Kombination aus einem leichten langlebigen Aluminiumrahmen und einer gut dämpfenden FACT Carbongabel wird das Sirrus schnell zu deinem favorisierten Fitness-Partner.



Felgen: 700C disc, double wall, 24h front, 28h rear
Gabel: Specialized FACT 9r carbon, 12x100mm thru-axle, flat mount disc, Plug + Play fender mounts
Bremse hinten: TRP Flow Set Control, hydraulic disc, resin pads, flat mount, 140mm rotor
Nabe hinten: Alloy, 135mm QR, 6-bolt disc, 11-speed freehub, loose ball bearing, 28h
Reifen hinten: Specialized Espoir Sport Reflect, 700x30mm, 60 TPI, double BlackBelt protection
Innenlager: Praxis M24, BSA
Kassette: Shimano Tiagra, 10-speed, 11-34t
Kette: KMC X10, 10-speed w/ Missing Link?
Kettenblätter: 48/32T
Kurbelgarnitur: Praxis Alba M24, solid forged arms, 6061 outer ring, steel inner ring, 110 BCD, 10-speed
Lenker: Double butted alloy, 9-degree backsweep, 31.8mm
Lenkerband: Specialized Body Geometry Flow Set Control, lock-on, integrated bar ends, hidden 4/5mm hex key
Pedale: Specialized Fitness platform, alloy
Rahmen: Specialized A1 SL Premium Aluminum, Fitness Geometry, fully-manipulated butted tubing, internal cable routing, flat mount disc, QR, rack & Plug + Play fender mounts
Sattel: Specialized Canopy Comp, hollow Cr-Mo rails, 155mm
Sattelstütze: Alloy, 2-bolt, 14mm offset, 27.2mm
Sattelklemme: Alloy, 31.8mm, bolt type
Schalthebel: microSHIFT Flow Set Control, 10-speed
Schaltwerk: Shimano Tiagra, GS cage, 10-speed
Schläuche: Presta, 48mm valve
Speichen: Stainless, 14g
Umwerfer: microSHIFT Centos, 10-speed, 31.8mm clamp
Lenkervorbau: Stainless, 14g
Bremse vorne: TRP Flow Set Control, hydraulic disc, resin pads, flat mount, 160mm rotor
Nabe vorne: Alloy, 6-bolt disc, loose ball bearing, 100mm spacing, QR, 24h
Reifen vorne: Specialized Espoir Sport Reflect, 700x30mm, 60 TPI, double BlackBelt protection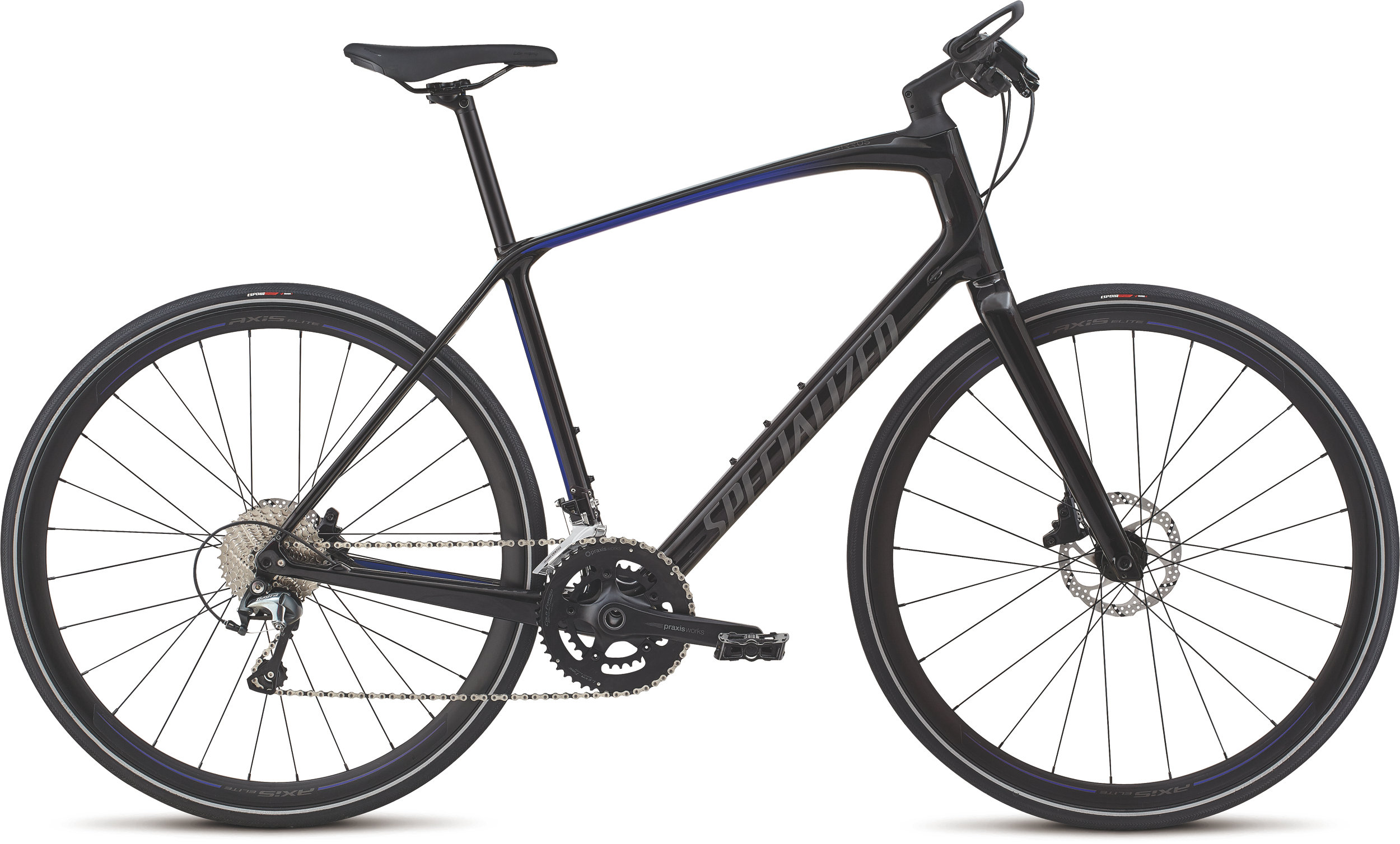 Art.Nr. 90918-4202
SIRRUS MEN ELITE CARBON INT TARBLK/RKTRED/ACDBLU S
Farbe: Tarmac Black/Rocket Red-Acid Blue Fade/Charcoal Reflective
Größe: S
pro Stück (inkl. 20 % MwSt )
1.299,00 EUR
pro Stück (inkl. 20 % MwSt )
1.299,00 EUR
Specialized Men´s Sirrus Elite Carbon Tarmac Black/Rocket Red-Acid Blue Fade/Charcoal Reflective M
Jeder kennt das Sprichwort Ohne Schweiß kein Preis und zugegeben es ist was dran. Aber das bedeutet ja nicht dass du keinen Spaß am Training haben kannst oder? Unser schnelles Sirrus Elite Carbon peppt deinen Trainingsalltag garantiert auf.

Für jede Menge Freude auf deinen Fitness-Ausfahrten spendieren wir dem Sirrus Elite einen leichten formschönen Rahmen aus FACT Carbon der deine Kraft effizient auf die Straße bringt und dich dabei mit einem geschmeidigen Fahrverhalten belohnt.

Um dem Bike vorne mehr vertikale Nachgiebigkeit zu verleihen haben sich unsere Entwickler mit McLaren zusammengeschlossen und das sogenannte Future Shock System entwickelt. Hierbei handelt es sich um eine im Steuerrohr untergebrachte Kartusche die für 20mm vertikale Nachgiebigkeit sorgt. Das Ergebnis ist mehr Speed auf schlechten Untergründen und natürlich ein wesentlich sanfteres Fahrgefühl sodass du gerade auf ruppigen Strecken deutlich geschont wirst. Das neutrale direkte Fahrverhalten wird vom Future Shock System nicht beeinträchtigt da das System in einer vertikalen Richtung arbeitet und kein Spiel aufweist. Somit verhält sich selbst beim Sprinten alles so direkt wie man es von einem Rennrad erwartet.

Die Komponenten tun ihr Übriges: die Schaltung mit Shimano-Zutaten funktioniert präzise und leichtgängig hydraulische Scheibenbremsen verleihen dir stets optimale Kontrolle Body Geometry Komponenten maximieren Komfort und Wohlbefinden auf langen Strecken.



Felgen: 700C disc, double wall, 24h front, 28h rear
Gabel: Specialized FACT 9r carbon, 12x100mm thru-axle, flat mount disc, Plug + Play fender mounts
Bremse hinten: TRP Flow Set Control, hydraulic disc, resin pads, flat mount, 140mm rotor
Nabe hinten: Alloy, 12x142mm thru-axle, 11-speed Shimano compatible freehub, 6-bolt disc, sealed bearing, 28h
Reifen hinten: Specialized Espoir Sport Reflect, 700x30mm, 60 TPI, double BlackBelt protection
Innenlager: Praxis M24, BSA
Kassette: Shimano Tiagra, 10-speed, 11-34t
Kette: KMC X10, 10-speed w/ Missing Link?
Kettenblätter: 48/32T
Kurbelgarnitur: Praxis Alba M24, solid forged arms, 6061 outer ring, steel inner ring, 110 BCD, 10-speed
Lenker: Double butted alloy, 9-degree backsweep, 31.8mm
Lenkerband: Specialized Body Geometry Flow Set Control, lock-on, integrated bar ends, hidden 4/5mm hex key
Pedale: Specialized Fitness platform, alloy
Rahmen: Specialized FACT 9r carbon, Fitness Geometry, 12x142mm thru-axle, internal cable routing, flat mount disc, rack, Plug + Play fender mounts
Sattel: Specialized Canopy Comp, hollow Cr-Mo rails, 155mm
Sattelstütze: Alloy, 2-bolt, 14mm offset, 27.2mm
Sattelklemme: Integrated w/ frame
Schalthebel: microSHIFT Flow Set Control, 10-speed
Schaltwerk: Shimano Tiagra, GS cage, 10-speed
Schläuche: Presta, 48mm valve
Speichen: Stainless, 14g
Umwerfer: microSHIFT Centos, 10-speed, braze-on
Lenkervorbau: Stainless, 14g
Bremse vorne: TRP Flow Set Control, hydraulic disc, resin pads, flat mount, 160mm rotor
Nabe vorne: Alloy, 12x100mm thru-axle, 6-bolt disc, sealed bearing, 28h
Reifen vorne: Specialized Espoir Sport Reflect, 700x30mm, 60 TPI, double BlackBelt protection

pro Stück (inkl. 20 % MwSt )
1.299,00 EUR
Specialized Men´s Sirrus Elite Carbon Tarmac Black/Rocket Red-Acid Blue Fade/Charcoal Reflective L
Jeder kennt das Sprichwort Ohne Schweiß kein Preis und zugegeben es ist was dran. Aber das bedeutet ja nicht dass du keinen Spaß am Training haben kannst oder? Unser schnelles Sirrus Elite Carbon peppt deinen Trainingsalltag garantiert auf.

Für jede Menge Freude auf deinen Fitness-Ausfahrten spendieren wir dem Sirrus Elite einen leichten formschönen Rahmen aus FACT Carbon der deine Kraft effizient auf die Straße bringt und dich dabei mit einem geschmeidigen Fahrverhalten belohnt.

Um dem Bike vorne mehr vertikale Nachgiebigkeit zu verleihen haben sich unsere Entwickler mit McLaren zusammengeschlossen und das sogenannte Future Shock System entwickelt. Hierbei handelt es sich um eine im Steuerrohr untergebrachte Kartusche die für 20mm vertikale Nachgiebigkeit sorgt. Das Ergebnis ist mehr Speed auf schlechten Untergründen und natürlich ein wesentlich sanfteres Fahrgefühl sodass du gerade auf ruppigen Strecken deutlich geschont wirst. Das neutrale direkte Fahrverhalten wird vom Future Shock System nicht beeinträchtigt da das System in einer vertikalen Richtung arbeitet und kein Spiel aufweist. Somit verhält sich selbst beim Sprinten alles so direkt wie man es von einem Rennrad erwartet.

Die Komponenten tun ihr Übriges: die Schaltung mit Shimano-Zutaten funktioniert präzise und leichtgängig hydraulische Scheibenbremsen verleihen dir stets optimale Kontrolle Body Geometry Komponenten maximieren Komfort und Wohlbefinden auf langen Strecken.



Felgen: 700C disc, double wall, 24h front, 28h rear
Gabel: Specialized FACT 9r carbon, 12x100mm thru-axle, flat mount disc, Plug + Play fender mounts
Bremse hinten: TRP Flow Set Control, hydraulic disc, resin pads, flat mount, 140mm rotor
Nabe hinten: Alloy, 12x142mm thru-axle, 11-speed Shimano compatible freehub, 6-bolt disc, sealed bearing, 28h
Reifen hinten: Specialized Espoir Sport Reflect, 700x30mm, 60 TPI, double BlackBelt protection
Innenlager: Praxis M24, BSA
Kassette: Shimano Tiagra, 10-speed, 11-34t
Kette: KMC X10, 10-speed w/ Missing Link?
Kettenblätter: 48/32T
Kurbelgarnitur: Praxis Alba M24, solid forged arms, 6061 outer ring, steel inner ring, 110 BCD, 10-speed
Lenker: Double butted alloy, 9-degree backsweep, 31.8mm
Lenkerband: Specialized Body Geometry Flow Set Control, lock-on, integrated bar ends, hidden 4/5mm hex key
Pedale: Specialized Fitness platform, alloy
Rahmen: Specialized FACT 9r carbon, Fitness Geometry, 12x142mm thru-axle, internal cable routing, flat mount disc, rack, Plug + Play fender mounts
Sattel: Specialized Canopy Comp, hollow Cr-Mo rails, 155mm
Sattelstütze: Alloy, 2-bolt, 14mm offset, 27.2mm
Sattelklemme: Integrated w/ frame
Schalthebel: microSHIFT Flow Set Control, 10-speed
Schaltwerk: Shimano Tiagra, GS cage, 10-speed
Schläuche: Presta, 48mm valve
Speichen: Stainless, 14g
Umwerfer: microSHIFT Centos, 10-speed, braze-on
Lenkervorbau: Stainless, 14g
Bremse vorne: TRP Flow Set Control, hydraulic disc, resin pads, flat mount, 160mm rotor
Nabe vorne: Alloy, 12x100mm thru-axle, 6-bolt disc, sealed bearing, 28h
Reifen vorne: Specialized Espoir Sport Reflect, 700x30mm, 60 TPI, double BlackBelt protection

pro Stück (inkl. 20 % MwSt )
1.299,00 EUR
Specialized Men´s Sirrus Elite Carbon Tarmac Black/Rocket Red-Acid Blue Fade/Charcoal Reflective XL
Jeder kennt das Sprichwort Ohne Schweiß kein Preis und zugegeben es ist was dran. Aber das bedeutet ja nicht dass du keinen Spaß am Training haben kannst oder? Unser schnelles Sirrus Elite Carbon peppt deinen Trainingsalltag garantiert auf.

Für jede Menge Freude auf deinen Fitness-Ausfahrten spendieren wir dem Sirrus Elite einen leichten formschönen Rahmen aus FACT Carbon der deine Kraft effizient auf die Straße bringt und dich dabei mit einem geschmeidigen Fahrverhalten belohnt.

Um dem Bike vorne mehr vertikale Nachgiebigkeit zu verleihen haben sich unsere Entwickler mit McLaren zusammengeschlossen und das sogenannte Future Shock System entwickelt. Hierbei handelt es sich um eine im Steuerrohr untergebrachte Kartusche die für 20mm vertikale Nachgiebigkeit sorgt. Das Ergebnis ist mehr Speed auf schlechten Untergründen und natürlich ein wesentlich sanfteres Fahrgefühl sodass du gerade auf ruppigen Strecken deutlich geschont wirst. Das neutrale direkte Fahrverhalten wird vom Future Shock System nicht beeinträchtigt da das System in einer vertikalen Richtung arbeitet und kein Spiel aufweist. Somit verhält sich selbst beim Sprinten alles so direkt wie man es von einem Rennrad erwartet.

Die Komponenten tun ihr Übriges: die Schaltung mit Shimano-Zutaten funktioniert präzise und leichtgängig hydraulische Scheibenbremsen verleihen dir stets optimale Kontrolle Body Geometry Komponenten maximieren Komfort und Wohlbefinden auf langen Strecken.



Felgen: 700C disc, double wall, 24h front, 28h rear
Gabel: Specialized FACT 9r carbon, 12x100mm thru-axle, flat mount disc, Plug + Play fender mounts
Bremse hinten: TRP Flow Set Control, hydraulic disc, resin pads, flat mount, 140mm rotor
Nabe hinten: Alloy, 12x142mm thru-axle, 11-speed Shimano compatible freehub, 6-bolt disc, sealed bearing, 28h
Reifen hinten: Specialized Espoir Sport Reflect, 700x30mm, 60 TPI, double BlackBelt protection
Innenlager: Praxis M24, BSA
Kassette: Shimano Tiagra, 10-speed, 11-34t
Kette: KMC X10, 10-speed w/ Missing Link?
Kettenblätter: 48/32T
Kurbelgarnitur: Praxis Alba M24, solid forged arms, 6061 outer ring, steel inner ring, 110 BCD, 10-speed
Lenker: Double butted alloy, 9-degree backsweep, 31.8mm
Lenkerband: Specialized Body Geometry Flow Set Control, lock-on, integrated bar ends, hidden 4/5mm hex key
Pedale: Specialized Fitness platform, alloy
Rahmen: Specialized FACT 9r carbon, Fitness Geometry, 12x142mm thru-axle, internal cable routing, flat mount disc, rack, Plug + Play fender mounts
Sattel: Specialized Canopy Comp, hollow Cr-Mo rails, 155mm
Sattelstütze: Alloy, 2-bolt, 14mm offset, 27.2mm
Sattelklemme: Integrated w/ frame
Schalthebel: microSHIFT Flow Set Control, 10-speed
Schaltwerk: Shimano Tiagra, GS cage, 10-speed
Schläuche: Presta, 48mm valve
Speichen: Stainless, 14g
Umwerfer: microSHIFT Centos, 10-speed, braze-on
Lenkervorbau: Stainless, 14g
Bremse vorne: TRP Flow Set Control, hydraulic disc, resin pads, flat mount, 160mm rotor
Nabe vorne: Alloy, 12x100mm thru-axle, 6-bolt disc, sealed bearing, 28h
Reifen vorne: Specialized Espoir Sport Reflect, 700x30mm, 60 TPI, double BlackBelt protection

Specialized Men´s Sirrus Elite Carbon Tarmac Black/Rocket Red-Acid Blue Fade/Charcoal Reflective S
Jeder kennt das Sprichwort Ohne Schweiß kein Preis und zugegeben es ist was dran. Aber das bedeutet ja nicht dass du keinen Spaß am Training haben kannst oder? Unser schnelles Sirrus Elite Carbon peppt deinen Trainingsalltag garantiert auf.

Für jede Menge Freude auf deinen Fitness-Ausfahrten spendieren wir dem Sirrus Elite einen leichten formschönen Rahmen aus FACT Carbon der deine Kraft effizient auf die Straße bringt und dich dabei mit einem geschmeidigen Fahrverhalten belohnt.

Um dem Bike vorne mehr vertikale Nachgiebigkeit zu verleihen haben sich unsere Entwickler mit McLaren zusammengeschlossen und das sogenannte Future Shock System entwickelt. Hierbei handelt es sich um eine im Steuerrohr untergebrachte Kartusche die für 20mm vertikale Nachgiebigkeit sorgt. Das Ergebnis ist mehr Speed auf schlechten Untergründen und natürlich ein wesentlich sanfteres Fahrgefühl sodass du gerade auf ruppigen Strecken deutlich geschont wirst. Das neutrale direkte Fahrverhalten wird vom Future Shock System nicht beeinträchtigt da das System in einer vertikalen Richtung arbeitet und kein Spiel aufweist. Somit verhält sich selbst beim Sprinten alles so direkt wie man es von einem Rennrad erwartet.

Die Komponenten tun ihr Übriges: die Schaltung mit Shimano-Zutaten funktioniert präzise und leichtgängig hydraulische Scheibenbremsen verleihen dir stets optimale Kontrolle Body Geometry Komponenten maximieren Komfort und Wohlbefinden auf langen Strecken.



Felgen: 700C disc, double wall, 24h front, 28h rear
Gabel: Specialized FACT 9r carbon, 12x100mm thru-axle, flat mount disc, Plug + Play fender mounts
Bremse hinten: TRP Flow Set Control, hydraulic disc, resin pads, flat mount, 140mm rotor
Nabe hinten: Alloy, 12x142mm thru-axle, 11-speed Shimano compatible freehub, 6-bolt disc, sealed bearing, 28h
Reifen hinten: Specialized Espoir Sport Reflect, 700x30mm, 60 TPI, double BlackBelt protection
Innenlager: Praxis M24, BSA
Kassette: Shimano Tiagra, 10-speed, 11-34t
Kette: KMC X10, 10-speed w/ Missing Link?
Kettenblätter: 48/32T
Kurbelgarnitur: Praxis Alba M24, solid forged arms, 6061 outer ring, steel inner ring, 110 BCD, 10-speed
Lenker: Double butted alloy, 9-degree backsweep, 31.8mm
Lenkerband: Specialized Body Geometry Flow Set Control, lock-on, integrated bar ends, hidden 4/5mm hex key
Pedale: Specialized Fitness platform, alloy
Rahmen: Specialized FACT 9r carbon, Fitness Geometry, 12x142mm thru-axle, internal cable routing, flat mount disc, rack, Plug + Play fender mounts
Sattel: Specialized Canopy Comp, hollow Cr-Mo rails, 155mm
Sattelstütze: Alloy, 2-bolt, 14mm offset, 27.2mm
Sattelklemme: Integrated w/ frame
Schalthebel: microSHIFT Flow Set Control, 10-speed
Schaltwerk: Shimano Tiagra, GS cage, 10-speed
Schläuche: Presta, 48mm valve
Speichen: Stainless, 14g
Umwerfer: microSHIFT Centos, 10-speed, braze-on
Lenkervorbau: Stainless, 14g
Bremse vorne: TRP Flow Set Control, hydraulic disc, resin pads, flat mount, 160mm rotor
Nabe vorne: Alloy, 12x100mm thru-axle, 6-bolt disc, sealed bearing, 28h
Reifen vorne: Specialized Espoir Sport Reflect, 700x30mm, 60 TPI, double BlackBelt protection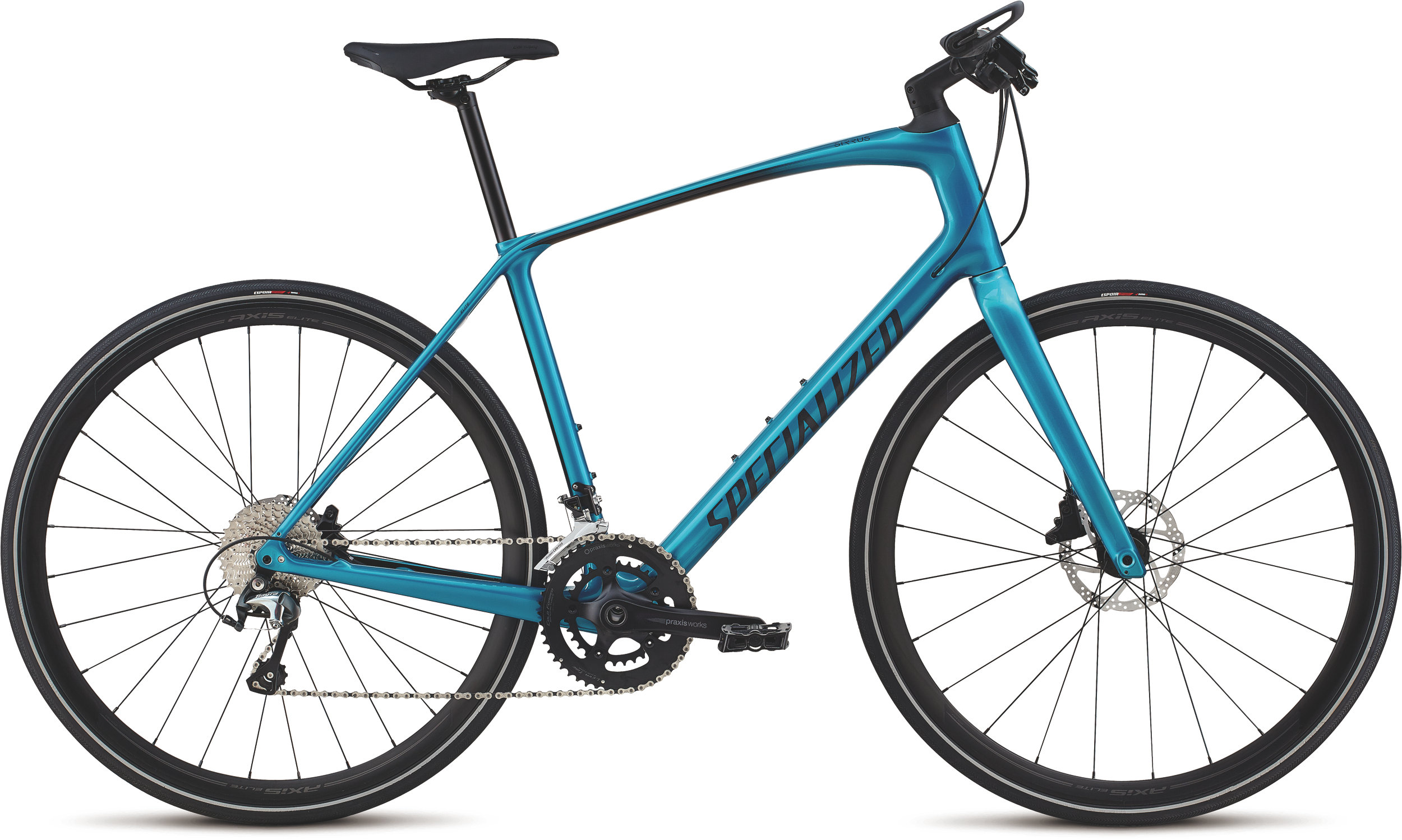 Art.Nr. 90918-4302
SIRRUS MEN ELITE CARBON INT TLTNT/BLK/BLK S
Farbe: Teal Tint/Black/Black Reflective
Größe: S
pro Stück (inkl. 20 % MwSt )
1.299,00 EUR
pro Stück (inkl. 20 % MwSt )
1.299,00 EUR
Specialized Men´s Sirrus Elite Carbon Teal Tint/Black/Black Reflective M
Jeder kennt das Sprichwort Ohne Schweiß kein Preis und zugegeben es ist was dran. Aber das bedeutet ja nicht dass du keinen Spaß am Training haben kannst oder? Unser schnelles Sirrus Elite Carbon peppt deinen Trainingsalltag garantiert auf.

Für jede Menge Freude auf deinen Fitness-Ausfahrten spendieren wir dem Sirrus Elite einen leichten formschönen Rahmen aus FACT Carbon der deine Kraft effizient auf die Straße bringt und dich dabei mit einem geschmeidigen Fahrverhalten belohnt.

Um dem Bike vorne mehr vertikale Nachgiebigkeit zu verleihen haben sich unsere Entwickler mit McLaren zusammengeschlossen und das sogenannte Future Shock System entwickelt. Hierbei handelt es sich um eine im Steuerrohr untergebrachte Kartusche die für 20mm vertikale Nachgiebigkeit sorgt. Das Ergebnis ist mehr Speed auf schlechten Untergründen und natürlich ein wesentlich sanfteres Fahrgefühl sodass du gerade auf ruppigen Strecken deutlich geschont wirst. Das neutrale direkte Fahrverhalten wird vom Future Shock System nicht beeinträchtigt da das System in einer vertikalen Richtung arbeitet und kein Spiel aufweist. Somit verhält sich selbst beim Sprinten alles so direkt wie man es von einem Rennrad erwartet.

Die Komponenten tun ihr Übriges: die Schaltung mit Shimano-Zutaten funktioniert präzise und leichtgängig hydraulische Scheibenbremsen verleihen dir stets optimale Kontrolle Body Geometry Komponenten maximieren Komfort und Wohlbefinden auf langen Strecken.



Felgen: 700C disc, double wall, 24h front, 28h rear
Gabel: Specialized FACT 9r carbon, 12x100mm thru-axle, flat mount disc, Plug + Play fender mounts
Bremse hinten: TRP Flow Set Control, hydraulic disc, resin pads, flat mount, 140mm rotor
Nabe hinten: Alloy, 12x142mm thru-axle, 11-speed Shimano compatible freehub, 6-bolt disc, sealed bearing, 28h
Reifen hinten: Specialized Espoir Sport Reflect, 700x30mm, 60 TPI, double BlackBelt protection
Innenlager: Praxis M24, BSA
Kassette: Shimano Tiagra, 10-speed, 11-34t
Kette: KMC X10, 10-speed w/ Missing Link?
Kettenblätter: 48/32T
Kurbelgarnitur: Praxis Alba M24, solid forged arms, 6061 outer ring, steel inner ring, 110 BCD, 10-speed
Lenker: Double butted alloy, 9-degree backsweep, 31.8mm
Lenkerband: Specialized Body Geometry Flow Set Control, lock-on, integrated bar ends, hidden 4/5mm hex key
Pedale: Specialized Fitness platform, alloy
Rahmen: Specialized FACT 9r carbon, Fitness Geometry, 12x142mm thru-axle, internal cable routing, flat mount disc, rack, Plug + Play fender mounts
Sattel: Specialized Canopy Comp, hollow Cr-Mo rails, 155mm
Sattelstütze: Alloy, 2-bolt, 14mm offset, 27.2mm
Sattelklemme: Integrated w/ frame
Schalthebel: microSHIFT Flow Set Control, 10-speed
Schaltwerk: Shimano Tiagra, GS cage, 10-speed
Schläuche: Presta, 48mm valve
Speichen: Stainless, 14g
Umwerfer: microSHIFT Centos, 10-speed, braze-on
Lenkervorbau: Stainless, 14g
Bremse vorne: TRP Flow Set Control, hydraulic disc, resin pads, flat mount, 160mm rotor
Nabe vorne: Alloy, 12x100mm thru-axle, 6-bolt disc, sealed bearing, 28h
Reifen vorne: Specialized Espoir Sport Reflect, 700x30mm, 60 TPI, double BlackBelt protection

pro Stück (inkl. 20 % MwSt )
1.299,00 EUR
Specialized Men´s Sirrus Elite Carbon Teal Tint/Black/Black Reflective L
Jeder kennt das Sprichwort Ohne Schweiß kein Preis und zugegeben es ist was dran. Aber das bedeutet ja nicht dass du keinen Spaß am Training haben kannst oder? Unser schnelles Sirrus Elite Carbon peppt deinen Trainingsalltag garantiert auf.

Für jede Menge Freude auf deinen Fitness-Ausfahrten spendieren wir dem Sirrus Elite einen leichten formschönen Rahmen aus FACT Carbon der deine Kraft effizient auf die Straße bringt und dich dabei mit einem geschmeidigen Fahrverhalten belohnt.

Um dem Bike vorne mehr vertikale Nachgiebigkeit zu verleihen haben sich unsere Entwickler mit McLaren zusammengeschlossen und das sogenannte Future Shock System entwickelt. Hierbei handelt es sich um eine im Steuerrohr untergebrachte Kartusche die für 20mm vertikale Nachgiebigkeit sorgt. Das Ergebnis ist mehr Speed auf schlechten Untergründen und natürlich ein wesentlich sanfteres Fahrgefühl sodass du gerade auf ruppigen Strecken deutlich geschont wirst. Das neutrale direkte Fahrverhalten wird vom Future Shock System nicht beeinträchtigt da das System in einer vertikalen Richtung arbeitet und kein Spiel aufweist. Somit verhält sich selbst beim Sprinten alles so direkt wie man es von einem Rennrad erwartet.

Die Komponenten tun ihr Übriges: die Schaltung mit Shimano-Zutaten funktioniert präzise und leichtgängig hydraulische Scheibenbremsen verleihen dir stets optimale Kontrolle Body Geometry Komponenten maximieren Komfort und Wohlbefinden auf langen Strecken.



Felgen: 700C disc, double wall, 24h front, 28h rear
Gabel: Specialized FACT 9r carbon, 12x100mm thru-axle, flat mount disc, Plug + Play fender mounts
Bremse hinten: TRP Flow Set Control, hydraulic disc, resin pads, flat mount, 140mm rotor
Nabe hinten: Alloy, 12x142mm thru-axle, 11-speed Shimano compatible freehub, 6-bolt disc, sealed bearing, 28h
Reifen hinten: Specialized Espoir Sport Reflect, 700x30mm, 60 TPI, double BlackBelt protection
Innenlager: Praxis M24, BSA
Kassette: Shimano Tiagra, 10-speed, 11-34t
Kette: KMC X10, 10-speed w/ Missing Link?
Kettenblätter: 48/32T
Kurbelgarnitur: Praxis Alba M24, solid forged arms, 6061 outer ring, steel inner ring, 110 BCD, 10-speed
Lenker: Double butted alloy, 9-degree backsweep, 31.8mm
Lenkerband: Specialized Body Geometry Flow Set Control, lock-on, integrated bar ends, hidden 4/5mm hex key
Pedale: Specialized Fitness platform, alloy
Rahmen: Specialized FACT 9r carbon, Fitness Geometry, 12x142mm thru-axle, internal cable routing, flat mount disc, rack, Plug + Play fender mounts
Sattel: Specialized Canopy Comp, hollow Cr-Mo rails, 155mm
Sattelstütze: Alloy, 2-bolt, 14mm offset, 27.2mm
Sattelklemme: Integrated w/ frame
Schalthebel: microSHIFT Flow Set Control, 10-speed
Schaltwerk: Shimano Tiagra, GS cage, 10-speed
Schläuche: Presta, 48mm valve
Speichen: Stainless, 14g
Umwerfer: microSHIFT Centos, 10-speed, braze-on
Lenkervorbau: Stainless, 14g
Bremse vorne: TRP Flow Set Control, hydraulic disc, resin pads, flat mount, 160mm rotor
Nabe vorne: Alloy, 12x100mm thru-axle, 6-bolt disc, sealed bearing, 28h
Reifen vorne: Specialized Espoir Sport Reflect, 700x30mm, 60 TPI, double BlackBelt protection

pro Stück (inkl. 20 % MwSt )
1.299,00 EUR
Specialized Men´s Sirrus Elite Carbon Teal Tint/Black/Black Reflective XL
Jeder kennt das Sprichwort Ohne Schweiß kein Preis und zugegeben es ist was dran. Aber das bedeutet ja nicht dass du keinen Spaß am Training haben kannst oder? Unser schnelles Sirrus Elite Carbon peppt deinen Trainingsalltag garantiert auf.

Für jede Menge Freude auf deinen Fitness-Ausfahrten spendieren wir dem Sirrus Elite einen leichten formschönen Rahmen aus FACT Carbon der deine Kraft effizient auf die Straße bringt und dich dabei mit einem geschmeidigen Fahrverhalten belohnt.

Um dem Bike vorne mehr vertikale Nachgiebigkeit zu verleihen haben sich unsere Entwickler mit McLaren zusammengeschlossen und das sogenannte Future Shock System entwickelt. Hierbei handelt es sich um eine im Steuerrohr untergebrachte Kartusche die für 20mm vertikale Nachgiebigkeit sorgt. Das Ergebnis ist mehr Speed auf schlechten Untergründen und natürlich ein wesentlich sanfteres Fahrgefühl sodass du gerade auf ruppigen Strecken deutlich geschont wirst. Das neutrale direkte Fahrverhalten wird vom Future Shock System nicht beeinträchtigt da das System in einer vertikalen Richtung arbeitet und kein Spiel aufweist. Somit verhält sich selbst beim Sprinten alles so direkt wie man es von einem Rennrad erwartet.

Die Komponenten tun ihr Übriges: die Schaltung mit Shimano-Zutaten funktioniert präzise und leichtgängig hydraulische Scheibenbremsen verleihen dir stets optimale Kontrolle Body Geometry Komponenten maximieren Komfort und Wohlbefinden auf langen Strecken.



Felgen: 700C disc, double wall, 24h front, 28h rear
Gabel: Specialized FACT 9r carbon, 12x100mm thru-axle, flat mount disc, Plug + Play fender mounts
Bremse hinten: TRP Flow Set Control, hydraulic disc, resin pads, flat mount, 140mm rotor
Nabe hinten: Alloy, 12x142mm thru-axle, 11-speed Shimano compatible freehub, 6-bolt disc, sealed bearing, 28h
Reifen hinten: Specialized Espoir Sport Reflect, 700x30mm, 60 TPI, double BlackBelt protection
Innenlager: Praxis M24, BSA
Kassette: Shimano Tiagra, 10-speed, 11-34t
Kette: KMC X10, 10-speed w/ Missing Link?
Kettenblätter: 48/32T
Kurbelgarnitur: Praxis Alba M24, solid forged arms, 6061 outer ring, steel inner ring, 110 BCD, 10-speed
Lenker: Double butted alloy, 9-degree backsweep, 31.8mm
Lenkerband: Specialized Body Geometry Flow Set Control, lock-on, integrated bar ends, hidden 4/5mm hex key
Pedale: Specialized Fitness platform, alloy
Rahmen: Specialized FACT 9r carbon, Fitness Geometry, 12x142mm thru-axle, internal cable routing, flat mount disc, rack, Plug + Play fender mounts
Sattel: Specialized Canopy Comp, hollow Cr-Mo rails, 155mm
Sattelstütze: Alloy, 2-bolt, 14mm offset, 27.2mm
Sattelklemme: Integrated w/ frame
Schalthebel: microSHIFT Flow Set Control, 10-speed
Schaltwerk: Shimano Tiagra, GS cage, 10-speed
Schläuche: Presta, 48mm valve
Speichen: Stainless, 14g
Umwerfer: microSHIFT Centos, 10-speed, braze-on
Lenkervorbau: Stainless, 14g
Bremse vorne: TRP Flow Set Control, hydraulic disc, resin pads, flat mount, 160mm rotor
Nabe vorne: Alloy, 12x100mm thru-axle, 6-bolt disc, sealed bearing, 28h
Reifen vorne: Specialized Espoir Sport Reflect, 700x30mm, 60 TPI, double BlackBelt protection

Specialized Men´s Sirrus Elite Carbon Teal Tint/Black/Black Reflective S
Jeder kennt das Sprichwort Ohne Schweiß kein Preis und zugegeben es ist was dran. Aber das bedeutet ja nicht dass du keinen Spaß am Training haben kannst oder? Unser schnelles Sirrus Elite Carbon peppt deinen Trainingsalltag garantiert auf.

Für jede Menge Freude auf deinen Fitness-Ausfahrten spendieren wir dem Sirrus Elite einen leichten formschönen Rahmen aus FACT Carbon der deine Kraft effizient auf die Straße bringt und dich dabei mit einem geschmeidigen Fahrverhalten belohnt.

Um dem Bike vorne mehr vertikale Nachgiebigkeit zu verleihen haben sich unsere Entwickler mit McLaren zusammengeschlossen und das sogenannte Future Shock System entwickelt. Hierbei handelt es sich um eine im Steuerrohr untergebrachte Kartusche die für 20mm vertikale Nachgiebigkeit sorgt. Das Ergebnis ist mehr Speed auf schlechten Untergründen und natürlich ein wesentlich sanfteres Fahrgefühl sodass du gerade auf ruppigen Strecken deutlich geschont wirst. Das neutrale direkte Fahrverhalten wird vom Future Shock System nicht beeinträchtigt da das System in einer vertikalen Richtung arbeitet und kein Spiel aufweist. Somit verhält sich selbst beim Sprinten alles so direkt wie man es von einem Rennrad erwartet.

Die Komponenten tun ihr Übriges: die Schaltung mit Shimano-Zutaten funktioniert präzise und leichtgängig hydraulische Scheibenbremsen verleihen dir stets optimale Kontrolle Body Geometry Komponenten maximieren Komfort und Wohlbefinden auf langen Strecken.



Felgen: 700C disc, double wall, 24h front, 28h rear
Gabel: Specialized FACT 9r carbon, 12x100mm thru-axle, flat mount disc, Plug + Play fender mounts
Bremse hinten: TRP Flow Set Control, hydraulic disc, resin pads, flat mount, 140mm rotor
Nabe hinten: Alloy, 12x142mm thru-axle, 11-speed Shimano compatible freehub, 6-bolt disc, sealed bearing, 28h
Reifen hinten: Specialized Espoir Sport Reflect, 700x30mm, 60 TPI, double BlackBelt protection
Innenlager: Praxis M24, BSA
Kassette: Shimano Tiagra, 10-speed, 11-34t
Kette: KMC X10, 10-speed w/ Missing Link?
Kettenblätter: 48/32T
Kurbelgarnitur: Praxis Alba M24, solid forged arms, 6061 outer ring, steel inner ring, 110 BCD, 10-speed
Lenker: Double butted alloy, 9-degree backsweep, 31.8mm
Lenkerband: Specialized Body Geometry Flow Set Control, lock-on, integrated bar ends, hidden 4/5mm hex key
Pedale: Specialized Fitness platform, alloy
Rahmen: Specialized FACT 9r carbon, Fitness Geometry, 12x142mm thru-axle, internal cable routing, flat mount disc, rack, Plug + Play fender mounts
Sattel: Specialized Canopy Comp, hollow Cr-Mo rails, 155mm
Sattelstütze: Alloy, 2-bolt, 14mm offset, 27.2mm
Sattelklemme: Integrated w/ frame
Schalthebel: microSHIFT Flow Set Control, 10-speed
Schaltwerk: Shimano Tiagra, GS cage, 10-speed
Schläuche: Presta, 48mm valve
Speichen: Stainless, 14g
Umwerfer: microSHIFT Centos, 10-speed, braze-on
Lenkervorbau: Stainless, 14g
Bremse vorne: TRP Flow Set Control, hydraulic disc, resin pads, flat mount, 160mm rotor
Nabe vorne: Alloy, 12x100mm thru-axle, 6-bolt disc, sealed bearing, 28h
Reifen vorne: Specialized Espoir Sport Reflect, 700x30mm, 60 TPI, double BlackBelt protection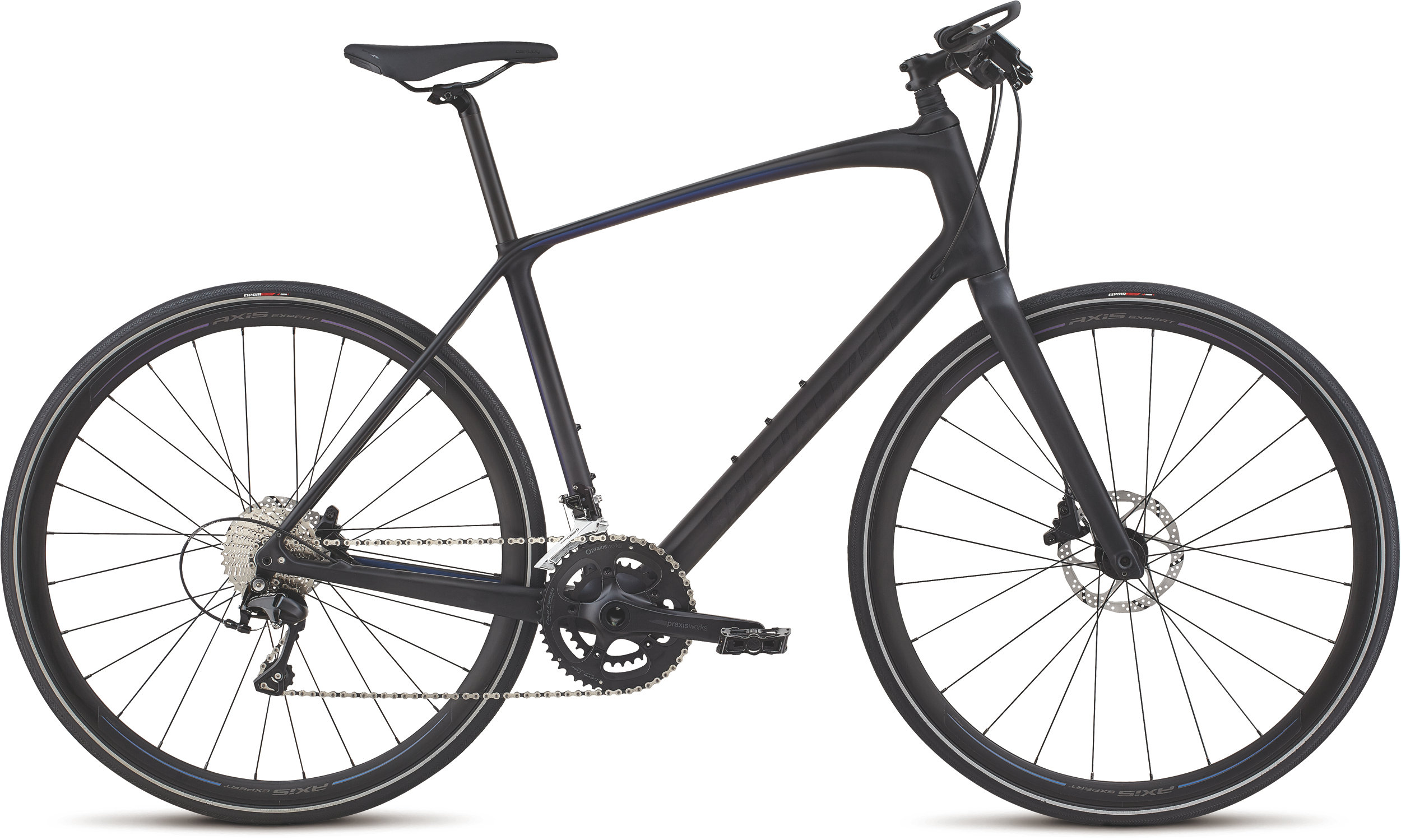 Art.Nr. 90918-3002
SIRRUS MEN EXPERT CARBON INT GRPH/CMLN/CHAR S
Farbe: Graphite/Chameleon Blue-Purple/Charcoal Reflective
Größe: S
pro Stück (inkl. 20 % MwSt )
1.899,00 EUR
pro Stück (inkl. 20 % MwSt )
1.899,00 EUR
Specialized Men´s Sirrus Expert Carbon Graphite/Chameleon Blue-Purple/Charcoal Reflective M
Unser Sirrus Expert Carbon zeigt eindrucksvoll dass Fitnessbikes mehr als ernst zu nehmen sind. Das Sirrus ist leicht schnell vielseitig und komfortabel zugleich. Sein leichter und agiler FACT 9r Carbonrahmen ermöglicht mühelosen Speed die ausgewogene Fitness-Geometrie spendet mit dem Future Shock System und Body Geometry Komponenten wohltuenden Komfort. Abgerundet wird das überzeugende Konzept mit der optionalen Schutzblechmontage falls dein Sirrus auch im Alltag punkten soll.

Um dem Bike vorne mehr vertikale Nachgiebigkeit zu verleihen haben sich unsere Entwickler mit McLaren zusammengeschlossen und das sogenannte Future Shock System entwickelt. Hierbei handelt es sich um eine im Steuerrohr untergebrachte Kartusche die für 20mm vertikale Nachgiebigkeit sorgt. Das Ergebnis ist mehr Speed auf schlechten Untergründen und natürlich ein wesentlich sanfteres Fahrgefühl sodass du gerade auf ruppigen Strecken deutlich geschont wirst. Das neutrale direkte Fahrverhalten wird vom Future Shock System nicht beeinträchtigt da das System in einer vertikalen Richtung arbeitet und kein Spiel aufweist. Somit verhält sich selbst beim Sprinten alles so direkt wie man es von einem Rennrad erwartet.

Die Komponenten runden das hochwertige Paket perfekt ab: die Schaltung mit Shimano-Zutaten funktioniert präzise und leichtgängig hydraulische Scheibenbremsen verleihen dir stets optimale Kontrolle Body Geometry Komponenten maximieren Komfort und Wohlbefinden auf langen Strecken.



Felgen: 700C disc, double wall, 24h front, 28h rear
Gabel: Specialized FACT 9r carbon, 12x100mm thru-axle, flat mount disc, Plug + Play fender mounts
Bremse hinten: TRP Flow Set Control, hydraulic disc, resin pads, flat mount, 140mm rotor
Nabe hinten: Alloy, 12x142mm thru-axle, 11-speed Shimano compatible freehub, 6-bolt disc, sealed bearing, 28h
Reifen hinten: Specialized Espoir Sport Reflect, 700x30mm, 60 TPI, double BlackBelt protection
Innenlager: Praxis M30, BSA
Kassette: Shimano 105, 11-speed, 11-32t
Kette: KMC X11, 11-speed w/ Missing Link?
Kettenblätter: 48/32T
Kurbelgarnitur: Praxis Alba M30, solid forged arms, 6061 chainrings, 110 BCD, 11-speed
Lenker: Double butted alloy, 9-degree backsweep, 31.8mm
Lenkerband: Specialized Body Geometry Flow Set Control, lock-on, integrated bar ends, hidden 4/5mm hex key
Pedale: Platform, alloy cage
Rahmen: Specialized FACT 9r carbon, Fitness Geometry, 12x142mm thru-axle, internal cable routing, flat mount disc, rack, Plug + Play fender mounts
Sattel: Specialized Canopy Comp, hollow Cr-Mo rails, 155mm
Sattelstütze: Specialized Comp carbon, 21mm offset, single bolt, 27.2mm
Sattelklemme: Integrated w/ frame
Schalthebel: microSHIFT Flow Set Control, 11-speed
Schaltwerk: Shimano 105, GS cage, 11-speed
Schläuche: Presta, 48mm valve
Speichen: Stainless, 14g
Umwerfer: microSHIFT Centos, 11-speed, braze-on
Lenkervorbau: Stainless, 14g
Bremse vorne: TRP Flow Set Control, hydraulic disc, resin pads, flat mount, 160mm rotor
Nabe vorne: Alloy, 12x100mm thru-axle, 6-bolt disc, sealed bearing, 24h
Reifen vorne: Specialized Espoir Sport Reflect, 700x30mm, 60 TPI, double BlackBelt protection

pro Stück (inkl. 20 % MwSt )
1.899,00 EUR
Specialized Men´s Sirrus Expert Carbon Graphite/Chameleon Blue-Purple/Charcoal Reflective L
Unser Sirrus Expert Carbon zeigt eindrucksvoll dass Fitnessbikes mehr als ernst zu nehmen sind. Das Sirrus ist leicht schnell vielseitig und komfortabel zugleich. Sein leichter und agiler FACT 9r Carbonrahmen ermöglicht mühelosen Speed die ausgewogene Fitness-Geometrie spendet mit dem Future Shock System und Body Geometry Komponenten wohltuenden Komfort. Abgerundet wird das überzeugende Konzept mit der optionalen Schutzblechmontage falls dein Sirrus auch im Alltag punkten soll.

Um dem Bike vorne mehr vertikale Nachgiebigkeit zu verleihen haben sich unsere Entwickler mit McLaren zusammengeschlossen und das sogenannte Future Shock System entwickelt. Hierbei handelt es sich um eine im Steuerrohr untergebrachte Kartusche die für 20mm vertikale Nachgiebigkeit sorgt. Das Ergebnis ist mehr Speed auf schlechten Untergründen und natürlich ein wesentlich sanfteres Fahrgefühl sodass du gerade auf ruppigen Strecken deutlich geschont wirst. Das neutrale direkte Fahrverhalten wird vom Future Shock System nicht beeinträchtigt da das System in einer vertikalen Richtung arbeitet und kein Spiel aufweist. Somit verhält sich selbst beim Sprinten alles so direkt wie man es von einem Rennrad erwartet.

Die Komponenten runden das hochwertige Paket perfekt ab: die Schaltung mit Shimano-Zutaten funktioniert präzise und leichtgängig hydraulische Scheibenbremsen verleihen dir stets optimale Kontrolle Body Geometry Komponenten maximieren Komfort und Wohlbefinden auf langen Strecken.



Felgen: 700C disc, double wall, 24h front, 28h rear
Gabel: Specialized FACT 9r carbon, 12x100mm thru-axle, flat mount disc, Plug + Play fender mounts
Bremse hinten: TRP Flow Set Control, hydraulic disc, resin pads, flat mount, 140mm rotor
Nabe hinten: Alloy, 12x142mm thru-axle, 11-speed Shimano compatible freehub, 6-bolt disc, sealed bearing, 28h
Reifen hinten: Specialized Espoir Sport Reflect, 700x30mm, 60 TPI, double BlackBelt protection
Innenlager: Praxis M30, BSA
Kassette: Shimano 105, 11-speed, 11-32t
Kette: KMC X11, 11-speed w/ Missing Link?
Kettenblätter: 48/32T
Kurbelgarnitur: Praxis Alba M30, solid forged arms, 6061 chainrings, 110 BCD, 11-speed
Lenker: Double butted alloy, 9-degree backsweep, 31.8mm
Lenkerband: Specialized Body Geometry Flow Set Control, lock-on, integrated bar ends, hidden 4/5mm hex key
Pedale: Platform, alloy cage
Rahmen: Specialized FACT 9r carbon, Fitness Geometry, 12x142mm thru-axle, internal cable routing, flat mount disc, rack, Plug + Play fender mounts
Sattel: Specialized Canopy Comp, hollow Cr-Mo rails, 155mm
Sattelstütze: Specialized Comp carbon, 21mm offset, single bolt, 27.2mm
Sattelklemme: Integrated w/ frame
Schalthebel: microSHIFT Flow Set Control, 11-speed
Schaltwerk: Shimano 105, GS cage, 11-speed
Schläuche: Presta, 48mm valve
Speichen: Stainless, 14g
Umwerfer: microSHIFT Centos, 11-speed, braze-on
Lenkervorbau: Stainless, 14g
Bremse vorne: TRP Flow Set Control, hydraulic disc, resin pads, flat mount, 160mm rotor
Nabe vorne: Alloy, 12x100mm thru-axle, 6-bolt disc, sealed bearing, 24h
Reifen vorne: Specialized Espoir Sport Reflect, 700x30mm, 60 TPI, double BlackBelt protection

pro Stück (inkl. 20 % MwSt )
1.899,00 EUR
Specialized Men´s Sirrus Expert Carbon Graphite/Chameleon Blue-Purple/Charcoal Reflective XL
Unser Sirrus Expert Carbon zeigt eindrucksvoll dass Fitnessbikes mehr als ernst zu nehmen sind. Das Sirrus ist leicht schnell vielseitig und komfortabel zugleich. Sein leichter und agiler FACT 9r Carbonrahmen ermöglicht mühelosen Speed die ausgewogene Fitness-Geometrie spendet mit dem Future Shock System und Body Geometry Komponenten wohltuenden Komfort. Abgerundet wird das überzeugende Konzept mit der optionalen Schutzblechmontage falls dein Sirrus auch im Alltag punkten soll.

Um dem Bike vorne mehr vertikale Nachgiebigkeit zu verleihen haben sich unsere Entwickler mit McLaren zusammengeschlossen und das sogenannte Future Shock System entwickelt. Hierbei handelt es sich um eine im Steuerrohr untergebrachte Kartusche die für 20mm vertikale Nachgiebigkeit sorgt. Das Ergebnis ist mehr Speed auf schlechten Untergründen und natürlich ein wesentlich sanfteres Fahrgefühl sodass du gerade auf ruppigen Strecken deutlich geschont wirst. Das neutrale direkte Fahrverhalten wird vom Future Shock System nicht beeinträchtigt da das System in einer vertikalen Richtung arbeitet und kein Spiel aufweist. Somit verhält sich selbst beim Sprinten alles so direkt wie man es von einem Rennrad erwartet.

Die Komponenten runden das hochwertige Paket perfekt ab: die Schaltung mit Shimano-Zutaten funktioniert präzise und leichtgängig hydraulische Scheibenbremsen verleihen dir stets optimale Kontrolle Body Geometry Komponenten maximieren Komfort und Wohlbefinden auf langen Strecken.



Felgen: 700C disc, double wall, 24h front, 28h rear
Gabel: Specialized FACT 9r carbon, 12x100mm thru-axle, flat mount disc, Plug + Play fender mounts
Bremse hinten: TRP Flow Set Control, hydraulic disc, resin pads, flat mount, 140mm rotor
Nabe hinten: Alloy, 12x142mm thru-axle, 11-speed Shimano compatible freehub, 6-bolt disc, sealed bearing, 28h
Reifen hinten: Specialized Espoir Sport Reflect, 700x30mm, 60 TPI, double BlackBelt protection
Innenlager: Praxis M30, BSA
Kassette: Shimano 105, 11-speed, 11-32t
Kette: KMC X11, 11-speed w/ Missing Link?
Kettenblätter: 48/32T
Kurbelgarnitur: Praxis Alba M30, solid forged arms, 6061 chainrings, 110 BCD, 11-speed
Lenker: Double butted alloy, 9-degree backsweep, 31.8mm
Lenkerband: Specialized Body Geometry Flow Set Control, lock-on, integrated bar ends, hidden 4/5mm hex key
Pedale: Platform, alloy cage
Rahmen: Specialized FACT 9r carbon, Fitness Geometry, 12x142mm thru-axle, internal cable routing, flat mount disc, rack, Plug + Play fender mounts
Sattel: Specialized Canopy Comp, hollow Cr-Mo rails, 155mm
Sattelstütze: Specialized Comp carbon, 21mm offset, single bolt, 27.2mm
Sattelklemme: Integrated w/ frame
Schalthebel: microSHIFT Flow Set Control, 11-speed
Schaltwerk: Shimano 105, GS cage, 11-speed
Schläuche: Presta, 48mm valve
Speichen: Stainless, 14g
Umwerfer: microSHIFT Centos, 11-speed, braze-on
Lenkervorbau: Stainless, 14g
Bremse vorne: TRP Flow Set Control, hydraulic disc, resin pads, flat mount, 160mm rotor
Nabe vorne: Alloy, 12x100mm thru-axle, 6-bolt disc, sealed bearing, 24h
Reifen vorne: Specialized Espoir Sport Reflect, 700x30mm, 60 TPI, double BlackBelt protection

Specialized Men´s Sirrus Expert Carbon Graphite/Chameleon Blue-Purple/Charcoal Reflective S
Unser Sirrus Expert Carbon zeigt eindrucksvoll dass Fitnessbikes mehr als ernst zu nehmen sind. Das Sirrus ist leicht schnell vielseitig und komfortabel zugleich. Sein leichter und agiler FACT 9r Carbonrahmen ermöglicht mühelosen Speed die ausgewogene Fitness-Geometrie spendet mit dem Future Shock System und Body Geometry Komponenten wohltuenden Komfort. Abgerundet wird das überzeugende Konzept mit der optionalen Schutzblechmontage falls dein Sirrus auch im Alltag punkten soll.

Um dem Bike vorne mehr vertikale Nachgiebigkeit zu verleihen haben sich unsere Entwickler mit McLaren zusammengeschlossen und das sogenannte Future Shock System entwickelt. Hierbei handelt es sich um eine im Steuerrohr untergebrachte Kartusche die für 20mm vertikale Nachgiebigkeit sorgt. Das Ergebnis ist mehr Speed auf schlechten Untergründen und natürlich ein wesentlich sanfteres Fahrgefühl sodass du gerade auf ruppigen Strecken deutlich geschont wirst. Das neutrale direkte Fahrverhalten wird vom Future Shock System nicht beeinträchtigt da das System in einer vertikalen Richtung arbeitet und kein Spiel aufweist. Somit verhält sich selbst beim Sprinten alles so direkt wie man es von einem Rennrad erwartet.

Die Komponenten runden das hochwertige Paket perfekt ab: die Schaltung mit Shimano-Zutaten funktioniert präzise und leichtgängig hydraulische Scheibenbremsen verleihen dir stets optimale Kontrolle Body Geometry Komponenten maximieren Komfort und Wohlbefinden auf langen Strecken.



Felgen: 700C disc, double wall, 24h front, 28h rear
Gabel: Specialized FACT 9r carbon, 12x100mm thru-axle, flat mount disc, Plug + Play fender mounts
Bremse hinten: TRP Flow Set Control, hydraulic disc, resin pads, flat mount, 140mm rotor
Nabe hinten: Alloy, 12x142mm thru-axle, 11-speed Shimano compatible freehub, 6-bolt disc, sealed bearing, 28h
Reifen hinten: Specialized Espoir Sport Reflect, 700x30mm, 60 TPI, double BlackBelt protection
Innenlager: Praxis M30, BSA
Kassette: Shimano 105, 11-speed, 11-32t
Kette: KMC X11, 11-speed w/ Missing Link?
Kettenblätter: 48/32T
Kurbelgarnitur: Praxis Alba M30, solid forged arms, 6061 chainrings, 110 BCD, 11-speed
Lenker: Double butted alloy, 9-degree backsweep, 31.8mm
Lenkerband: Specialized Body Geometry Flow Set Control, lock-on, integrated bar ends, hidden 4/5mm hex key
Pedale: Platform, alloy cage
Rahmen: Specialized FACT 9r carbon, Fitness Geometry, 12x142mm thru-axle, internal cable routing, flat mount disc, rack, Plug + Play fender mounts
Sattel: Specialized Canopy Comp, hollow Cr-Mo rails, 155mm
Sattelstütze: Specialized Comp carbon, 21mm offset, single bolt, 27.2mm
Sattelklemme: Integrated w/ frame
Schalthebel: microSHIFT Flow Set Control, 11-speed
Schaltwerk: Shimano 105, GS cage, 11-speed
Schläuche: Presta, 48mm valve
Speichen: Stainless, 14g
Umwerfer: microSHIFT Centos, 11-speed, braze-on
Lenkervorbau: Stainless, 14g
Bremse vorne: TRP Flow Set Control, hydraulic disc, resin pads, flat mount, 160mm rotor
Nabe vorne: Alloy, 12x100mm thru-axle, 6-bolt disc, sealed bearing, 24h
Reifen vorne: Specialized Espoir Sport Reflect, 700x30mm, 60 TPI, double BlackBelt protection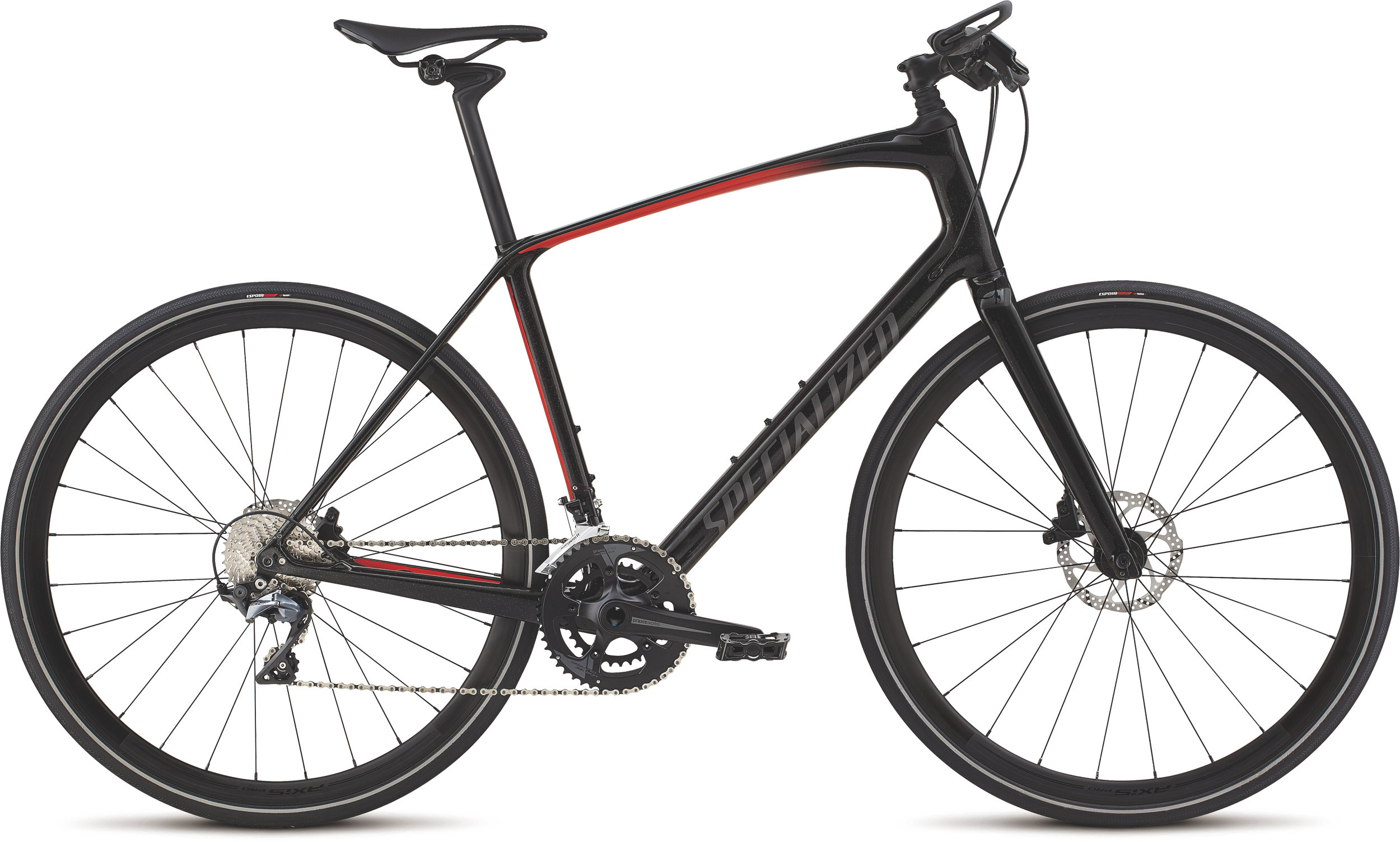 Art.Nr. 90918-1002
SIRRUS MEN PRO CARBON INT CSMBLKTNT/RKTRED/BLK S
Farbe: Cosmic Black Tint/Rocket Red/Black Reflective
Größe: S
pro Stück (inkl. 20 % MwSt )
2.199,00 EUR
pro Stück (inkl. 20 % MwSt )
2.199,00 EUR
Specialized Men´s Sirrus Pro Carbon Cosmic Black Tint/Rocket Red/Black Reflective M
Der Fitnesstrend ist mehr als eine Mode-Erscheinung sondern vielmehr ein entscheidendes Element für mehr Lebensqualität. Und genau die wird durch Radfahren enorm gesteigert besonders wenn das Bike anspornt aktiv zu sein. Denn im Sirrus Pro Carbon verschmelzen die unschlagbaren Qualität eines Carbonrahmens nämlich Effizienz geringes Gewicht und Fahrkomfort mit einer ausgewogenen Fitness-Geometrie und top Komponenten.

Um dem Bike vorne mehr vertikale Nachgiebigkeit zu verleihen haben sich unsere Entwickler mit McLaren zusammengeschlossen und das sogenannte Future Shock System entwickelt. Hierbei handelt es sich um eine im Steuerrohr untergebrachte Kartusche die für 20mm vertikale Nachgiebigkeit sorgt. Das Ergebnis ist mehr Speed auf schlechten Untergründen und natürlich ein wesentlich sanfteres Fahrgefühl sodass du gerade auf ruppigen Strecken deutlich geschont wirst. Das neutrale direkte Fahrverhalten wird vom Future Shock System nicht beeinträchtigt da das System in einer vertikalen Richtung arbeitet und kein Spiel aufweist. Somit verhält sich selbst beim Sprinten alles so direkt wie man es von einem Rennrad erwartet.

Die Komponenten runden das hochwertige Paket perfekt ab: die Schaltung mit hochwertigen Shimano-Zutaten funktioniert präzise und leichtgängig hydraulische Scheibenbremsen verleihen dir stets optimale Kontrolle Body Geometry Komponenten maximieren Komfort und Wohlbefinden auf langen Strecken.



Felgen: 700C disc, double wall, 24h front, 28h rear
Gabel: Specialized FACT 9r carbon, 12x100mm thru-axle, flat mount disc, Plug + Play fender mounts
Bremse hinten: TRP Flow Set Control, carbon lever, hydraulic disc, resin pads, flat mount, 140mm rotor
Nabe hinten: Alloy, 12x142mm thru-axle, 11-speed Shimano compatible freehub, 6-bolt disc, sealed bearing, 28h
Reifen hinten: Specialized Espoir Sport Reflect, 700x30mm, 60 TPI, double BlackBelt protection
Innenlager: Praxis M30, BSA
Kassette: Shimano 105, 11-speed, 11-32t
Kette: KMC X11, 11-speed w/ Missing Link?
Kettenblätter: 48/32T
Kurbelgarnitur: Praxis Zayante M30, hollow forged arms, 7075 chainrings, 110 BCD, 11-speed
Lenker: Double butted alloy, 9-degree backsweep, 31.8mm
Lenkerband: Specialized Body Geometry Flow Set Control, lock-on, integrated bar ends, hidden 4/5mm hex key
Pedale: Platform, alloy cage
Rahmen: Specialized FACT 9r carbon, Fitness Geometry, 12x142mm thru-axle, internal cable routing, flat mount disc, rack, Plug + Play fender mounts
Sattel: Specialized Phenom, hollow Ti rails, 143mm
Sattelstütze: Specialized CG-R, FACT carbon, 25mm offset, single-bolt, 27.2mm
Sattelklemme: Integrated w/ frame
Schalthebel: microSHIFT Flow Set Control, 11-speed
Schaltwerk: Shimano Ultegra R8000, Shadow design, 11-speed
Schläuche: Presta, 48mm valve
Speichen: Stainless, 14g
Umwerfer: microSHIFT Centos, 11-speed, braze-on
Lenkervorbau: Stainless, 14g
Bremse vorne: TRP Flow Set Control, carbon lever, hydraulic disc, resin pads, flat mount, 160mm rotor
Nabe vorne: Alloy, 12x100mm thru-axle, 6-bolt disc, sealed bearing, 24h
Reifen vorne: Specialized Espoir Sport Reflect, 700x30mm, 60 TPI, double BlackBelt protection

pro Stück (inkl. 20 % MwSt )
2.199,00 EUR
Specialized Men´s Sirrus Pro Carbon Cosmic Black Tint/Rocket Red/Black Reflective L
Der Fitnesstrend ist mehr als eine Mode-Erscheinung sondern vielmehr ein entscheidendes Element für mehr Lebensqualität. Und genau die wird durch Radfahren enorm gesteigert besonders wenn das Bike anspornt aktiv zu sein. Denn im Sirrus Pro Carbon verschmelzen die unschlagbaren Qualität eines Carbonrahmens nämlich Effizienz geringes Gewicht und Fahrkomfort mit einer ausgewogenen Fitness-Geometrie und top Komponenten.

Um dem Bike vorne mehr vertikale Nachgiebigkeit zu verleihen haben sich unsere Entwickler mit McLaren zusammengeschlossen und das sogenannte Future Shock System entwickelt. Hierbei handelt es sich um eine im Steuerrohr untergebrachte Kartusche die für 20mm vertikale Nachgiebigkeit sorgt. Das Ergebnis ist mehr Speed auf schlechten Untergründen und natürlich ein wesentlich sanfteres Fahrgefühl sodass du gerade auf ruppigen Strecken deutlich geschont wirst. Das neutrale direkte Fahrverhalten wird vom Future Shock System nicht beeinträchtigt da das System in einer vertikalen Richtung arbeitet und kein Spiel aufweist. Somit verhält sich selbst beim Sprinten alles so direkt wie man es von einem Rennrad erwartet.

Die Komponenten runden das hochwertige Paket perfekt ab: die Schaltung mit hochwertigen Shimano-Zutaten funktioniert präzise und leichtgängig hydraulische Scheibenbremsen verleihen dir stets optimale Kontrolle Body Geometry Komponenten maximieren Komfort und Wohlbefinden auf langen Strecken.



Felgen: 700C disc, double wall, 24h front, 28h rear
Gabel: Specialized FACT 9r carbon, 12x100mm thru-axle, flat mount disc, Plug + Play fender mounts
Bremse hinten: TRP Flow Set Control, carbon lever, hydraulic disc, resin pads, flat mount, 140mm rotor
Nabe hinten: Alloy, 12x142mm thru-axle, 11-speed Shimano compatible freehub, 6-bolt disc, sealed bearing, 28h
Reifen hinten: Specialized Espoir Sport Reflect, 700x30mm, 60 TPI, double BlackBelt protection
Innenlager: Praxis M30, BSA
Kassette: Shimano 105, 11-speed, 11-32t
Kette: KMC X11, 11-speed w/ Missing Link?
Kettenblätter: 48/32T
Kurbelgarnitur: Praxis Zayante M30, hollow forged arms, 7075 chainrings, 110 BCD, 11-speed
Lenker: Double butted alloy, 9-degree backsweep, 31.8mm
Lenkerband: Specialized Body Geometry Flow Set Control, lock-on, integrated bar ends, hidden 4/5mm hex key
Pedale: Platform, alloy cage
Rahmen: Specialized FACT 9r carbon, Fitness Geometry, 12x142mm thru-axle, internal cable routing, flat mount disc, rack, Plug + Play fender mounts
Sattel: Specialized Phenom, hollow Ti rails, 143mm
Sattelstütze: Specialized CG-R, FACT carbon, 25mm offset, single-bolt, 27.2mm
Sattelklemme: Integrated w/ frame
Schalthebel: microSHIFT Flow Set Control, 11-speed
Schaltwerk: Shimano Ultegra R8000, Shadow design, 11-speed
Schläuche: Presta, 48mm valve
Speichen: Stainless, 14g
Umwerfer: microSHIFT Centos, 11-speed, braze-on
Lenkervorbau: Stainless, 14g
Bremse vorne: TRP Flow Set Control, carbon lever, hydraulic disc, resin pads, flat mount, 160mm rotor
Nabe vorne: Alloy, 12x100mm thru-axle, 6-bolt disc, sealed bearing, 24h
Reifen vorne: Specialized Espoir Sport Reflect, 700x30mm, 60 TPI, double BlackBelt protection

pro Stück (inkl. 20 % MwSt )
2.199,00 EUR
Specialized Men´s Sirrus Pro Carbon Cosmic Black Tint/Rocket Red/Black Reflective XL
Der Fitnesstrend ist mehr als eine Mode-Erscheinung sondern vielmehr ein entscheidendes Element für mehr Lebensqualität. Und genau die wird durch Radfahren enorm gesteigert besonders wenn das Bike anspornt aktiv zu sein. Denn im Sirrus Pro Carbon verschmelzen die unschlagbaren Qualität eines Carbonrahmens nämlich Effizienz geringes Gewicht und Fahrkomfort mit einer ausgewogenen Fitness-Geometrie und top Komponenten.

Um dem Bike vorne mehr vertikale Nachgiebigkeit zu verleihen haben sich unsere Entwickler mit McLaren zusammengeschlossen und das sogenannte Future Shock System entwickelt. Hierbei handelt es sich um eine im Steuerrohr untergebrachte Kartusche die für 20mm vertikale Nachgiebigkeit sorgt. Das Ergebnis ist mehr Speed auf schlechten Untergründen und natürlich ein wesentlich sanfteres Fahrgefühl sodass du gerade auf ruppigen Strecken deutlich geschont wirst. Das neutrale direkte Fahrverhalten wird vom Future Shock System nicht beeinträchtigt da das System in einer vertikalen Richtung arbeitet und kein Spiel aufweist. Somit verhält sich selbst beim Sprinten alles so direkt wie man es von einem Rennrad erwartet.

Die Komponenten runden das hochwertige Paket perfekt ab: die Schaltung mit hochwertigen Shimano-Zutaten funktioniert präzise und leichtgängig hydraulische Scheibenbremsen verleihen dir stets optimale Kontrolle Body Geometry Komponenten maximieren Komfort und Wohlbefinden auf langen Strecken.



Felgen: 700C disc, double wall, 24h front, 28h rear
Gabel: Specialized FACT 9r carbon, 12x100mm thru-axle, flat mount disc, Plug + Play fender mounts
Bremse hinten: TRP Flow Set Control, carbon lever, hydraulic disc, resin pads, flat mount, 140mm rotor
Nabe hinten: Alloy, 12x142mm thru-axle, 11-speed Shimano compatible freehub, 6-bolt disc, sealed bearing, 28h
Reifen hinten: Specialized Espoir Sport Reflect, 700x30mm, 60 TPI, double BlackBelt protection
Innenlager: Praxis M30, BSA
Kassette: Shimano 105, 11-speed, 11-32t
Kette: KMC X11, 11-speed w/ Missing Link?
Kettenblätter: 48/32T
Kurbelgarnitur: Praxis Zayante M30, hollow forged arms, 7075 chainrings, 110 BCD, 11-speed
Lenker: Double butted alloy, 9-degree backsweep, 31.8mm
Lenkerband: Specialized Body Geometry Flow Set Control, lock-on, integrated bar ends, hidden 4/5mm hex key
Pedale: Platform, alloy cage
Rahmen: Specialized FACT 9r carbon, Fitness Geometry, 12x142mm thru-axle, internal cable routing, flat mount disc, rack, Plug + Play fender mounts
Sattel: Specialized Phenom, hollow Ti rails, 143mm
Sattelstütze: Specialized CG-R, FACT carbon, 25mm offset, single-bolt, 27.2mm
Sattelklemme: Integrated w/ frame
Schalthebel: microSHIFT Flow Set Control, 11-speed
Schaltwerk: Shimano Ultegra R8000, Shadow design, 11-speed
Schläuche: Presta, 48mm valve
Speichen: Stainless, 14g
Umwerfer: microSHIFT Centos, 11-speed, braze-on
Lenkervorbau: Stainless, 14g
Bremse vorne: TRP Flow Set Control, carbon lever, hydraulic disc, resin pads, flat mount, 160mm rotor
Nabe vorne: Alloy, 12x100mm thru-axle, 6-bolt disc, sealed bearing, 24h
Reifen vorne: Specialized Espoir Sport Reflect, 700x30mm, 60 TPI, double BlackBelt protection

Specialized Men´s Sirrus Pro Carbon Cosmic Black Tint/Rocket Red/Black Reflective S
Der Fitnesstrend ist mehr als eine Mode-Erscheinung sondern vielmehr ein entscheidendes Element für mehr Lebensqualität. Und genau die wird durch Radfahren enorm gesteigert besonders wenn das Bike anspornt aktiv zu sein. Denn im Sirrus Pro Carbon verschmelzen die unschlagbaren Qualität eines Carbonrahmens nämlich Effizienz geringes Gewicht und Fahrkomfort mit einer ausgewogenen Fitness-Geometrie und top Komponenten.

Um dem Bike vorne mehr vertikale Nachgiebigkeit zu verleihen haben sich unsere Entwickler mit McLaren zusammengeschlossen und das sogenannte Future Shock System entwickelt. Hierbei handelt es sich um eine im Steuerrohr untergebrachte Kartusche die für 20mm vertikale Nachgiebigkeit sorgt. Das Ergebnis ist mehr Speed auf schlechten Untergründen und natürlich ein wesentlich sanfteres Fahrgefühl sodass du gerade auf ruppigen Strecken deutlich geschont wirst. Das neutrale direkte Fahrverhalten wird vom Future Shock System nicht beeinträchtigt da das System in einer vertikalen Richtung arbeitet und kein Spiel aufweist. Somit verhält sich selbst beim Sprinten alles so direkt wie man es von einem Rennrad erwartet.

Die Komponenten runden das hochwertige Paket perfekt ab: die Schaltung mit hochwertigen Shimano-Zutaten funktioniert präzise und leichtgängig hydraulische Scheibenbremsen verleihen dir stets optimale Kontrolle Body Geometry Komponenten maximieren Komfort und Wohlbefinden auf langen Strecken.



Felgen: 700C disc, double wall, 24h front, 28h rear
Gabel: Specialized FACT 9r carbon, 12x100mm thru-axle, flat mount disc, Plug + Play fender mounts
Bremse hinten: TRP Flow Set Control, carbon lever, hydraulic disc, resin pads, flat mount, 140mm rotor
Nabe hinten: Alloy, 12x142mm thru-axle, 11-speed Shimano compatible freehub, 6-bolt disc, sealed bearing, 28h
Reifen hinten: Specialized Espoir Sport Reflect, 700x30mm, 60 TPI, double BlackBelt protection
Innenlager: Praxis M30, BSA
Kassette: Shimano 105, 11-speed, 11-32t
Kette: KMC X11, 11-speed w/ Missing Link?
Kettenblätter: 48/32T
Kurbelgarnitur: Praxis Zayante M30, hollow forged arms, 7075 chainrings, 110 BCD, 11-speed
Lenker: Double butted alloy, 9-degree backsweep, 31.8mm
Lenkerband: Specialized Body Geometry Flow Set Control, lock-on, integrated bar ends, hidden 4/5mm hex key
Pedale: Platform, alloy cage
Rahmen: Specialized FACT 9r carbon, Fitness Geometry, 12x142mm thru-axle, internal cable routing, flat mount disc, rack, Plug + Play fender mounts
Sattel: Specialized Phenom, hollow Ti rails, 143mm
Sattelstütze: Specialized CG-R, FACT carbon, 25mm offset, single-bolt, 27.2mm
Sattelklemme: Integrated w/ frame
Schalthebel: microSHIFT Flow Set Control, 11-speed
Schaltwerk: Shimano Ultegra R8000, Shadow design, 11-speed
Schläuche: Presta, 48mm valve
Speichen: Stainless, 14g
Umwerfer: microSHIFT Centos, 11-speed, braze-on
Lenkervorbau: Stainless, 14g
Bremse vorne: TRP Flow Set Control, carbon lever, hydraulic disc, resin pads, flat mount, 160mm rotor
Nabe vorne: Alloy, 12x100mm thru-axle, 6-bolt disc, sealed bearing, 24h
Reifen vorne: Specialized Espoir Sport Reflect, 700x30mm, 60 TPI, double BlackBelt protection